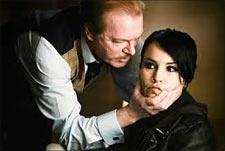 Arthur J Pais feels The Girl With The Dragon Tattoo is an engaging film and could soon become a worldwide hit.
Never mind how well you know Swedish author Stieg Larsson's first novel in his mega-popular
Millennium Trilogy
series (65 million copies sold and still counting), you are in for some surprises with director David Fincher's
The Girl with the Dragon Tattoo
.
The twists and turns of the movie version surprise and shock a great deal. The Swedish version of the film came out over two years ago and was a mainstream hit in Europe and an art-house hit in America and Canada. But the highly engaging Fincher film holds its own ground and could soon become a worldwide hit.
The film, which began its world run with a release in North America on Wednesday, may not make as much money as the latest
Twilight Saga
,
Breaking Dawn Part I
which cost $150 million to make and is headed for $750 million global haul. But it is difficult to believe that the $100 million
Dragon Tattoo
will not be a decent box office champion for Sony.
Among its many accomplishments is a strong and nuanced performance by a relatively new artist, Rooney Mara. She is the mysterious, abused, cranky and vengeance-seeking computer hacker Lisbeth Salander who joins a troubled journalist (Daniel Craig) to investigate the disappearance of a young woman from an affluent Swedish business family.
Though the admirers of the Swedish version of the book may root for Noomi Rapace, who was mind blowing in the Swedish film, Mara's deeply etched performance could make her an international star within months.
Fincher, the maker of such serial killer hits as
Seven
, had cast her as the girlfriend of Facebook billionaire Mark Zuckerberg in his Oscar nominated hit film
The Social Network
just about a year ago. Her work there promised big things and her work here far exceeds the tall expectations.
Last week, the 26-year-old was nominated for her first Golden Globe Award in the best dramatic actress category. An Oscar nomination is therefore a distinct possibility.
All the physical transformation she underwent, as she chopped off her hair, bleached her eyebrows and underwent numerous body piercings, would not have mattered had she not responded to Fincher's direction and delivered a performance which is full of maniac moments, deep introspection and
powerful gazes. And she has excellent chemistry with Craig.
Mikael Blomkvist (Craig), publisher of a Swedish investigative magazine,
Millennium
, is disgraced and bankrupt when he loses a libel case brought by a crooked tycoon (Ulf Friberg). He takes a job from industrialist Henrik Vanger (Christopher Plummer), who offers him not only a good paycheck but also an opportunity to take his revenge against the tycoon.
Blomkvist was told he was hired to write Vanger's memoir but realises soon enough that the real work is about solving the four-decade-old disappearance of Vanger's teenage niece.
As the suspense builds, Fincher takes us into the decadent family of Vanger but the class study never creates a stumbling block as we follow Bloomkvist and his young co-worker as they dig deeper into the disappearance.
The story is full of damaged characters but Fincher never offers voyeuristic thrills as he follows rape situations and several other acts of depravity.
Reviewers have used phrases like 'kick ass,' 'electrifying,' and 'a master class in sinister style' to describe the film.
'Larsson's faithful fans may demur, but it seems questionable whether the Millennium novels are really worthy of the talent of Fincher and his cast for the next two films in the series,' declared
The Globe
and
Mail
, the most influential newspaper in Canada. 'But give credit for what it is: If you can't make a silk purse out of a sow's ear, at least you can create a snazzy studded leather belt.'
The film, full of forbidden passions and obsessions, also has several other solid performances especially by 82-year-old Christopher Plummer as the patriarch of a wealthy family that has many mysteries of its own. Also offering an astonishing performance is the veteran Stellan Skarsgaard who plays a man of some moral spine in the business family but has his own tortured past.
Like many adaptations,
Dragon Tattoo
takes liberties with the book and Steven Zaillian's script captures well the intrigue, corruption of soul and the concomitant anguish. Even if you were conscious of its nearly 160-minutes length, you may be amazed how briskly it has unfolded, and yet provided uncommon thrills and bouts of emotions.
If you want to treat yourself further, see the admirable original, subtitled, Swedish version. You will enjoy it too, but most importantly, you will enjoy the feeling coming out of two very different but equally compelling versions.
Rediff Rating: