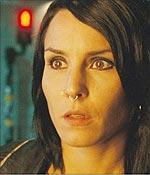 Aseem Chhabra reviews The Girl Who Played With Fire
Fans of the late Stieg Larsson's hugely popular Millennium trilogy (The Girl With the Dragon Tattoo, The Girl Who Played With Fire and The Girl Who Kicked the Hornet's Nest) cannot seem to get enough of his books.
The international bestsellers with an estimated worldwide sale figure of 40 million copies, have kept fans engaged for the last five years. Now the films, based on the trilogy, are creating layers of new admirers of Larsson's creepy but taunt thrillers, laced with dark sexual secrets of rape, incest and more.

The three films -- all released in Europe last year -- have already grossed over $150 million. Dragon Tattoo was just released in the US on DVD. The sequel Fire, opens in a number of large cities on July 9, followed by the October release of Hornet's Nest.
Given the popularity of the books and the box office success of Dragon Tattoo (the original Swedish title was Men Who Hate Women), Music Box Films is taking the rare step for a foreign film by releasing Fire in New York City on nine screens -- all in the original Swedish language with English subtitles.
Larsson was a unique writer, who spent a substantial part of his professional life as a member of Sweden's socialist organisation, writing and documenting the rise of racism and neo-Nazis in that outwardly calm appearing Scandinavian country. He received many death threats. But then in 2004 Larsson died of a massive heart attack at the age of 50. The Millennium trilogy was published a year after his untimely death.

I saw Dragon Tattoo last month and the film (just as the book) drew inspiration from elements of Larsson's professional work -- a wealthy family with Nazi connections in its past and hidden secrets of incest, abuse and a lot of gory killings. Dragon Tattoo was a rare European thriller -- very Hollywood-like in its approach, and with a range of darkness that one associates with the works of David Fincher (especially Seven and Zodiac).

At its two hours and 10 minutes length, Fire is not as strong as Dragon Tattoo. The film is replete with coincidences and often seems farfetched as the plot unwinds. But in a summer packed with dull and uninspired big Hollywood productions, this thriller from Sweden certainly stands on its own merits. Fire succeeds just as a good book for the beach or a long plane ride. It entertains, despite its improbable moments and the suspense is gripping enough that the film does not feel long.

Fire takes place a year after Dragon Tattoo. While it has a completely different plot, people who are not familiar with the first book or film may face a disadvantage, as they will not be able to drawn connections between the lead characters. Lisbeth Salander (Noomi Rapace) is back playing the role of the moody, introverted, dark haired, bisexual protagonist, with a number of tattoos (the largest one of a dragon covers her entire slender back) and a passion for body piercing. Salander is also an expert computer hacker with a tragic past. Also back in the film is Mikael Blomkvist (Michael Nyqvist), the publisher of the Millennium magazine.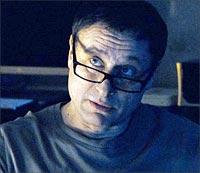 The two had a relationship in the first film and perhaps for that reason alone, Salander stays away from Blomkvist. But the killings of two other journalists who were on the verge of exposing a major sex trafficking operation between Eastern Europe and Sweden for Blomkvist's publication, reconnects the publisher and his young lover -- not physically, since they meet late in the film, but circumstantially.
The gun found in the apartment of the two journalists has Salander's fingerprints. And in any case, the gun belongs to Salander's government appointed guardian who had sadistically raped her, until she blackmailed him with a video tape that captured the man's nasty habits. It is all a very convenient way in which the plot links Salander and Blomkvist, but some films have a way to skip logic.

Blomkvist is convinced of Salander's innocence, even though there is mounting evidence against her. He continues to talk to the police of the woman's innocence.
Salander is on her own journey -- a personal mission to clear her name and to tie up loose ends of her childhood.
The film, despite some of its departures from reality (the small built Salander is beaten up many times and manages to survive), is tightly directed by Daniel Alfredson (Dragon Tattoo was directed by Niels Arden Oplev). He is very ably assisted by his crew, especially editor Mattias Morheden, cinematographer Peter Mokrosinski and composer Jacob Groth whose gripping soundtrack gives the edge-of-the-seat quality to the thriller.

The film's greatest strength lies in its two leads -- Nyqvist, who with tremendous ease plays the ever curious investigative journalist/ publisher with a penchant of landing into difficult and dangerous situations; and the lovely Rapace, as the super confident, super cool, no-nonsense Salander, a mean fighter, who is set to straighten up all the wrong doings in her world. Rapace is a delight to watch and just for her performance alone. I cannot wait until Hornet's Nest opens.
Rediff Rating: