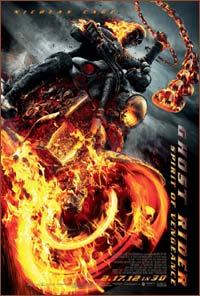 Raja Sen feels that the 3D in Ghost Rider: Spirit Of Vengeance is not gimmicky enough.

Look, I dig
Ghost Rider
. As I said when
reviewing
the first
Ghost Rider
movie (
one that I still believe holds up as a passable guilty-pleasure
) the comic-book antihero's appeal lies in his darkness, his badassery and his extreme heavy-metallitude.
That, and the motorcycle.
Having said that, I don't think most issues of
Ghost Rider
I pored over as a child were ever actually well written. The story -- of a man who sold his soul to the devil, to moonlight as a bounty-hunter by night, covered in flames from head to motorcycle-tyre -- was always that of a dark fable, and his adventures were mostly linear and predictable. What
Ghost Rider
had, however, was phantasmagorical artwork, nightmare visions realised by some of the most bizarre artists in comicdom.
Unshackled from conventional superhero archetypes, they'd craft surreally frightening visuals, full of mythic, nonsensical and biblical imagery, and it was a trip, man.
Ghost Rider
was about the beautifully adult splash-pages, and the devil in the details.
Which brings us to how the new
Ghost Rider
reboot,
Spirit Of Vengeance
, forces me to type a complaint I scarcely expected to: the 3D just isn't gimmicky enough.
Any
Ghost Rider
fan can deal with a simplistic hokey story, but the visuals need to be unapologetically gruesome and wicked-cool, tapping into surrealism and giving us something that scares as it seduces, something both fascinating
and fearsome. Not to mention a headbanging soundtrack with guitars making sounds like Harleys and squealing out of control as they turn it all up to earbleeding levels.
Neveldine/Taylor, a director duo who see themselves as a tag-team perhaps like Abbas and Mastan, first gave us
Crank
and
Crank 2
, a pair of highly stupid, wonderfully adrenalin-filled rides featuring Jason Statham. In this film, they have a character who combusts at night, a young lady impregnated by the devil, various orders of monks and priests, mystical ceremonies, and young men who look uncannily like Kurt Russell and make apples rot in seconds: in sum, more than enough meat to make a truly bloody spectacle.
Only, they don't. The film is half-baked and unfulfilling, with nothing much to recommend save for the fact that it dispenses with the character's backstory quickly enough. It also casts three very good actors, only to then embarrass them with a painful script by David S Goyer. Ciaran Hinds is wasted as The Devil, Nicolas Cage -- god bless his soul -- tries his darnedest but his Johnny Blaze now feels like a superhero hunting for a pension. Idris Elba is very cool as a French wino-monk called Moreau, but has too much screen presence for Marvel to keep using him as a bit player. Now *he*, the man who rocks as Luthor on TV, could be a truly intimidating
Ghost Rider.
Because that is truly what the character is all about. A cheesy first film and a painful reboot later, it's becoming increasingly clear that the only way a
Ghost Rider
adaptation will actually succeed on screen is if it embraces the comics' spirit and becomes a horror movie. With a helluva soundtrack, naturally.
Rediff Rating: