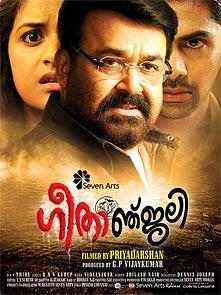 Geethanjali is a lacklustre effort, writes Paresh C Palicha

The character of Dr Sunny Joseph from Manichitrathazhu is still remembered by Kerala audiences. Now, veteran director Priyadarshan has refurbished the character after nearly two decades in his new film Geethanjali.

Geethanjali is a psycho-horror thriller that has copied from many sources including the recent Kannada film Charulata that was inspired by a Korean film. .

Debutant Keerthy Suresh plays identical twins that are jealous of each other. Geetha and Anjali fall in love with the same guy, Anup (Nishan). The bad one, Geetha, supposedly commits suicide after losing the battle of love. But her spirit continues to trouble Anjali and others around the house. .

Anup calls in Dr Sunny Joseph to do something about this situation, as recommended by Nakul (Suresh Gopi in a guest appearance). .

It does not take much
effort to guess where the story is headed. Among the many sources from which the film borrows ideas, the most striking is the K Madhu directed
Nadiya Kollapetta Rathri
(2007) with Suresh Gopi and Kavya Madhavan in the lead. .
Keerthy Suresh who makes her debut in this film has got a plum role but whether she impresses with her acting prowess is another matter. There is not much for her to do except look grumpy or innocent in the two roles she has throughout the film. .
The makers of the film insist that it is not a sequel to
Manichitrathazhu,
but Mohanlal is made to go through similar situations in this film, so the connection to the original Sunny Joseph is inevitable. .
Innocent enacts a comic role similar to the one in the original. But, his efforts go in vain as this film lacks the substance of the original. .
Geethanjali
is disappointing. It is a lacklustre effort that is not a patch on the original. .
Rediff Rating: