The sophisticated action in G I Joe: Retaliation will have twelve-year olds gasping in their seats while adults will be instantly transported to their childhood, says Preeti Arora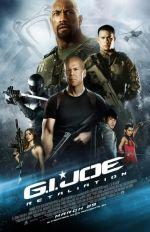 For three decades G I Joe toys have been a must-have in every boy's toy collection. So the first film Rise of the Cobra (2009) was loved by the teenybopper audience, but there were many who hated it and had good reasons to do so. Playing it safe, director Jon M Chu has retained just a few of the characters and adopted a fresh stylistic approach to the screenplay.
And does he succeed in pulling it off? Quite admirably.
While many action enthusiasts aren't happy about the film being shot using the latest 3-D technology, the cleverly devised and executed stunts had us rooting for more.
GI Joe: Retaliation unashamedly caters to the GI Joe fans and you're expected to know who the Joes are, what they do in life, and why the Cobra Commander is one of the most dreaded people on earth. The hush in the auditorium every time Duke (Channing Tatum) appears on screen clearly indicates the audience is well-versed with the G I Joe legends.
This film has been planned as a summer outing for the kiddos who saved their pocket money to acquire yet another G I Joe figure with all the accompanying paraphernalia such as tanks. The sophisticated action will have twelve-year olds gasping in their seats while the adult audience will be instantly transported to their childhood.
But let's suppose you haven't been a fan and you aren't really familiar with the characters and their nuances it still remains a fun excursion. Dwayne Johnson (Roadblock) despite his muscular torso and straight-faced dialogue delivery retains the air of goofiness which he first perfected in The Game Plan. It's what makes him a huge hit with little girls unlike some action heroes whose fan base remains restricted to the boys and the men.
Channing Tatum, who also had a significant role in Rise of the Cobra, shares good onscreen chemistry with Dwayne Johnson and their buddy charm considerably enhances the film. There's also the heroine Adrainne Palicki -- also know as Jaye or Lady Jaye -- in skimpy gowns and displaying generous amounts of cleavage. She alternates between a sense of self-pity, as her father would have preferred to have a son, or the desire to wreak vengeance for the loss of self-esteem she suffered in her childhood. Her performance may not win her much acclaim but she brings the necessary 'sizzle' into the film.
There is an imposter US president ably played By Jonathan Pryce who says and does what he wants without worrying about the political implications. Ludicrous but humorous too.
The landscape GI Joe: Retaliation attempts is vast. Entire countries will be destroyed at the click of a button and life-threatening wounds can be cured with daffy special effects. There is samurai style action, ninjas, mountain rappelling, swords flying at you, (courtesy 3-D) and Dwayne Johnson bumping off his enemies without a backward glance (Rajinikanth style).
So this weekend pull out your 3-D glasses and stock up on the popcorn for a 110-minute joyride. One thing we guarantee, you won't get bored.