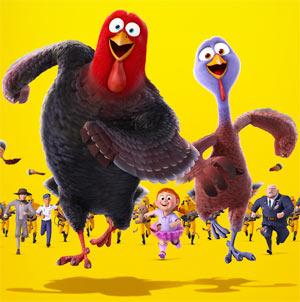 Free Birds has a couple of laughs and if you don't think too much, you might not even find it predictable, writes Paloma Sharma.

Horton Hears a Who! director Jimmy Hayward's new animated movie Free Birds is yet another formula film -- a confused hero is faced with the challenge of a lifetime which he eventually rises to after falling in love and emerges a changed man.

Reggie the Turkey (Owen Wilson) is about to be slaughtered on Thanksgiving but, in a crazy turn of events, he receives a Presidential pardon from the President of America.

(Yes, that actually happens in real life as well.)

Reggie becomes used to the leisurely life as a pardoned turkey until, in another crazy and totally unexpected turn of events; he gets kidnapped by Jake (Woody Harrelson), a wild turkey named Jake who is the president of the Turkey Liberation Front. Guess how many turkeys there are in the Front?

That's right.

One.

Jake then leads a terribly confused and frightened Reggie to a time machine which they must ride back to 1621 in order to take turkeys off the Thanksgiving menu forever; and until then the film is quite enjoyable.

There are a couple of laughs and if you don't think too much, you might not even find it predictable.

But the stereotyping fest for the family begins when Jake and Reggie land up in the 17th century and are saved by Native American turkeys. It goes without saying that the Native American turkeys have head dresses and face paint -- which is all fine except for the fact that their makeup represents no tribe in particular.
The Native American turkeys -- and how I despise saying that -- have a liberation front of their own. They are fighting against white settlers who are hunting them relentlessly in order to have enough food for the winter. Jake and Reggie must help them and destroy the foreign settlement in order to save turkeys from being eaten on the first Thanksgiving and all the other Thanksgivings thereafter.
The animation was surprising better than the usual direct-to-DVD level of work that one usually observes in such films but it could have been so much better if it was in 2D. 3D is just wasted on the film since it has no awesome special effects to offer.
The music remains mediocre, which is quite alright since at least it does not interrupt the story.
The story could have been more interesting had it been a tad more sensitive to Native American culture and the true history of the colonization of America.
Don't believe me? The daughter of Chief Broadbeak (Keith David), the Native American leader, is a blue-eyed turkey named Jenny (voiced by Amy Poehler).
Totally believable.
Free Birds was probably made by a couple of white people with a whole lot of time and not much will to Google things. It is mildly funny and politically correct when it comes being animal-friendly and vegetarian. But, as far as respect for fellow human beings and falsely representing cultures that their ancestors once tried to wipe out through genocide, the makers should have probably put up a sign outside the theatre that says, 'Dogs and Indians not allowed.'
And you know what kind of Indians I'm talking about.
Rediff Rating: