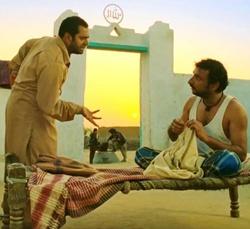 Filmistaan has a strong plot and well-developed characters, says Paloma Sharma.

While Gandhiji has been long hailed as the father of the nation, it is CineMaa that is the undisputed mother of not only India but also its neighbouring Pakistan.
The much revered CineMaa blesses her devotees with business on both sides of the border, serving as a common thread between the protagonists -- Sunny (Sharib Hashmi) and Aftab (Inaamulhaq) -- in Nitin Kakkar's Filmistaan.
Sukhwinder "Sunny" Arora is one of the millions of struggling actors in the city of Mumbai. His several auditions have yielded zero call backs and an empty pocket.
Driven by his desire to learn more about his art and unable to pay his bills, Sunny accepts a position as an assistant director for a documentary being filmed by a group of Americans.
The crew films in Rajasthan, near the border, and one night, when Sunny gets separated from the crew, a gang of mysterious men kidnap him, mistaking him for an American in the dark.
Sunny wakes up to find that he is now in a village in the desert across the border, in Pakistan, and his captors are Islamic terrorists who have terrorised the villagers into silence.
Initially isolated, Sunny soon finds a friend in Aftab, the son of the man in whose house he has been imprisoned.
Aftab, who secretly aspires to direct a film, smuggles CDs of pirated Bollywood films from India and is quite familiar with the border.
Aftab and Sunny bond over their obsession with cinema but while Sunny is adamant about running away, Aftab believes that he will die if he tries.
Eventually, Sunny's never-say-die attitude and his comical renditions of popular Bollywood actors win over Aftab and the villagers, and he even manages to soften up his captors.
However, will that be enough for the villagers to help Sunny escape or will he end up as just another casualty in the war between freedom and terror?
Filmistaan chooses to speak about the sensitive issue of Pakistan and does so with amazing clarity.

Employing crisp humour, often using famous dialogues from Hindi films, the film stresses on the shared culture (including the sanskaars given by Cine Maa) to remind us how easy it is to get along with our neighbours when we look at them as human beings.
Filmistaan stands on the foundation of a solid plot and is beautifully built up with well developed characters. The story is refreshingly simple and yet manages to keep you on the edge of your seat throughout.
It isn't exactly a happy story. It progresses under the shadow of the gun. But Sharib Hashmi and Inaamulhaq never let the heat get to the audience until they absolutely must.
Sharib Hashmi wins you over in the very first scene, when he attempts to eat chocolate in a fashion that he thinks is sexy.

And he doesn't stop there. Hashmi maintains his upbeat, ever-smiling persona but also makes you wonder about the real person who hides behind the happiness.
The best part, however, is that though Inaamulhaq is as brilliant as Aftab, neither actor overshadows the other. They complement each other.
Filmistaan is successful in its juxtaposition of art and extremism, of freedom and fear. It makes it easy for the viewer to walk in the shoes of Sunny and Aftab, as well as Sunny's captors.

Gopal Dutt and Kumud Mishra play the captors. The film is sensible enough to make room for grey shades instead of merely playing the Big Bad Wolf.
Filmistaan is packed with great background scores, unfaltering narration and stellar performances.

It's also one of the best films I've watched since Queen and D-Day; it's absolutely flawless.

Rediff Rating: