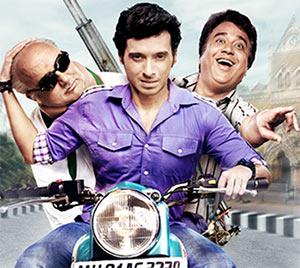 Ekkees Toppon Ki Salaami could have been flawless but for slightly substandard dialogues and cinematography, says Paloma Sharma.

Purushottam Narayan Joshi (Anupam Kher) is an honest BMC worker who has devoted his life to his job.

In return, all he wants for his retirement day is some respect.
As it had eluded him all his life -- in school, at work, during his wedding, and even from his sons Subhash (Divyendu Sharma) and Shekhar (Manu Rishi) -- Purushottam is shocked when he's accused of stealing on his last day at work and subsequently dies.
When his sons realise their father's value, it is too late.

They cannot bring him back. But, as a last gesture of respect, they take it upon themselves to fulfill his last wish and get him ekkees toppon ki salaami (a 21-cannon salute) at his funeral.
The trouble is -- where will the two of them find 21 cannons, in present times, for the funeral?
TV soap director Ravindra Gautam deals with hard-hitting political satire for his big screen debut and it works wonderfully.
The script is strong and rarely falters.

The screenplay has been clearly divide into proper acts; the only thing lacking was the dialogue.

Although crisp for the most part, there are unnecessary sexual undertones in some scenes concerning the Chief Minister (Rajesh Sharma) and his mistress (Neha Dhupia).

Personally, if the dialogue had been kept a little cleaner, it could have been more effective.
Casting non-stars in the lead was perhaps one of the best decisions Gautam made. That way, the story remains the hero.
Despite work alongside a veteran like Kher, the cast manage to hold their own quite well. While Aditi Sharma impresses, Divyendu Sharma could do without walking through every scene with a smug expression.
The concept may not be a new one but it certainly is one that needs to be explored time and again.

A vague reminder of another Anupam Kher classic, Khosla ka Ghosla, Ekkees Toppon ki Salaami may not be fast paced but you never really wonder about how long it will take to end.
Similarly, some twists are predictable but the overall feel-good factor keeps you glued to your seats.
Ekkees Toppon ki Salaami explores the relationship between a father with Gandhian values and his sons who were born in a world of free markets and privatisation, with great sensitivity.
The characters are well developed. You know where they're coming from and what their motivations are, hence it is easy to empathise with them.
The director has retained the authenticity of the story by choosing to shoot at real locations that the average Mumbaikar will recognise instantly.
Slightly substandard background score and cinematography mar this otherwise almost flawless film.
Ekkees Toppon ki Salaami is one of those films that you can watch over and over again.

Extraordinarily ordinary and proud of it, Ekkees Toppon ki Salaami reminds us of the important things in life in a highly consumerist world.

Rediff Rating: