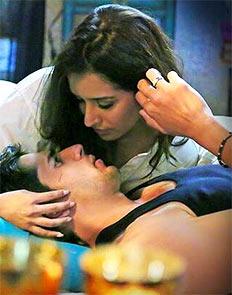 If I were to review it in one word, I'd say Ek Villain is... Unnecessary, writes Raja Sen.
Let's start with what we know.
We know, by now, that Mohit Suri can direct.
He knows how to block a scene, he knows how to use actors competently, he knows the importance of a strong moment, and the songs in his movies (more often than not) actually aid the narrative instead of weakening it.
We know that Siddharth Malhotra is an impressive looking lad, manlier than most of Bollywood's current brigade, and that when left free of dialogue -- as he was in Hasee Toh Phasee earlier this year -- he can muster up both likability and a smoulder.
And, ever since 2004's Naach, we've known Riteish Deshmukh can act.
What else do we know? We know that Ek Villain is a shameless ripoff of the madly thrilling Korean film I Saw The Devil, a crackling 2010 horror-thriller full of elegantly executed ultraviolence, a gore-fest so deftly handled it remains impossible to look away from.
Yet, there seems to be something fundamentally wrong with the way we remake films.
You know those often-hilarious South Asian DVD covers for pirated Hollywood films? Where they misspell the actor names and write a bizarre, ungrammatical and illogical version of the summary? With peculiar posters where content from two movies is often melded freakishly into one, as if all Tom Cruise movies were the same? Well, it's becoming clearer and clearer that our filmmakers might not be remaking the films themselves but these odd DVD covers. (No, dear producers, that is not what you call a cover version.)
Hence we have Ek Villain, where we take a hardboiled Korean film -- full of brutal gore and sexual abuse but enough panache to stay constantly gripping -- and inexplicably scramble it into a sex-less, gore-less slasher film with a wide-eyed love story running through it all. Gone are the thrills from the original and in come the cliched background score, watered-down murder scenes, and much, much silliness.
Shraddha Kapoor, for example, who has Pharrell Williams' Happy as her mobile ringtone, chirpily sits around filling up her journal with polaroids, when she turns to see a menacing figure. Clad in all black, with gloved hands, he advances upon her, basically the Scream killer minus the ghostface mask.
Her reaction, however, is one of plucky indignation. "Why didn't you knock?", she demands from this shadowy figure. "Don't you know it's not polite to enter someone's room without knocking?"
And the idiocy rolls on, scene after scene strung together and not even attempting to make sense.
There's a mental-asylum 'kidnapping' that makes no sense (but is still in the film to show off Mohit's/Siddharth's love for the iconic Amitabh cheesefest, Shahenshah); a man who robs his victims but doesn't have money to pay an autowallah; and a pinwheel that helps the 'good' guy find the bad one. Yes, a pinwheel. Like you get on Juhu beach.
In the original film, it was an engagement ring, and here it is a pinwheel, those flimsy paper things you can buy six of for a tenner. Because that's enough to convict a man. Why this change? (Beats me, but the cover must have been a masterpiece.)
Why, again, is this a remake? Why would these filmmakers steal from a film and yet leave out the good parts, the bits that made those films great? And why do we do it over and over again? Suri can shoot a chase, sure, but do let's give him a meatier script.
Malhotra isn't bad, except for his propensity to grunt all the time, as if snarling like a beast were the only way to show toughness. (It isn't. It shows brain damage.)
Riteish Deshmukh is good, despite being straddled with awful dialogue. "Everyone makes fun of me," he complains woefully, a possibly true-life sentiment that could be blamed on his Hindi film choices.
Shraddha Kapoor, alas, has evidently been told that talking too fast will make her appear spontaneous (and thus give her an edge into the Parineeti Chopra market), but while the girl has a nice smile, it takes more than coke-sped-up dialogue-delivery to create a fresh, natural character.
If I were to review it in one word, I'd say Ek Villain is... Unnecessary.
It features some genuinely awful writing, it is sillier than the examples thus far have illustrated, and the one good thing you can say about the film is that it ends briskly enough.
Oh, and that it has Remo Fernandes with a most amusing accent. But that's more consolation than recommendation.
Given free tickets, sure, you could escape Humshakals in theatres this weekend with this mediocre effort, but I say do yourself a favour and seek out the Korean DVD. (Uncover it, even.) Now that's bloody special.
Rediff Rating: