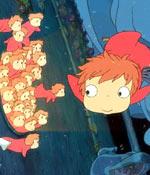 Ask any of the big guns at Pixar or Disney animation including director John Lasseter (Car, Toy Story movies) who is the best imaginative filmmaker working in the animated genre, they could easily repeat what they have been saying for a decade: Hayao Miyazaki.
And yet in America, the Oscar winning director famous for his films such as Howl's Moving Castle and Spirited Away -- each of which grossed a magnificent $200 million in his native Japan -- is not very big.
His biggest hit Spirited Away has grossed just about $10 million in North America seven years ago. Ponyo, the 8th highest grossing film in Japan, grossed $155 million in Japan two years ago but it earned $15 million in North America.
Avatar, a phenomenon in Japan, is headed towards the $150 million benchmark. But for a Miyazaki film to reach that mark in his country is a matter of routine.
Discriminating filmgoers can visit and revisit his classics on DVD and Blu-ray. Right now Ponyo, which reconfirms Miayazaki's genius as a writer and director, is delighting adults and children.
Lasseter adapted this version for the audiences who do not watch subtitled films.
The film had received some of the best reviews in America last year with Roger Ebert giving it four stars (out of four) in his Chicago Sun-Times review.
'This 68-year-old Japanese master continues to create animation drawn by hand, just as Snow White and Pinocchio were,' he wrote. 'There is a fluid, organic quality to his work that exposes the facile efficiency of CGI. And, my God! -- his imagination!'
Inspired by Hans Christian Anderson's The Little Mermaid, the film celebrates innocent love and the threatened beauty of the natural world. It is also about family ties and the ultimate love by parents or a parent that makes a world of difference.
With voices of such well known artists as Cate Blanchett, Matt Damon and Liam Neeson, Ponyo's magic becomes even more enchanting. There are moral lessons here, extraordinary hand-drawn graphics, strong visuals; it is the kind of film you may admire repeatedly wondering how you came to miss on the big screen.
The daughter of the sea goddess Gran Mamare (Blanchett) and the alchemist Fujimoto (Neeson), Ponyo (Noah Cyrus) is a little goldfish unhappy at her father's restrictions. She sets out hoping for adventure and meets Sosuke (Frankie Jonas), a 5-year-old who lives by the sea and adopts her.
Though Fujimoto's magic brings his daughter back, her love for Sosuke cannot be destroyed. She transforms herself into a human being and returns to him during a spectacular storm at sea, but her change causes distress to nature, precipitating a crisis.
Only Ponyo's mother, a sea goddess, can stop the impending disaster and make Ponyo's dreams come true. Ponyo will delight your family with its magnificent animation and timeless story.
Extras: Blu-ray comes with a DVD disc. The World Of Ghibli is an interactive experience and in Meet Ponyo, you get to hear the film's producers. A conversation with Hayao Miyazaki and John Lasseter Miyazaki reveals different character designs, including the initial inspiration for Ponyo and what each of her forms represent. Lasseter also get the master discuss the way water is presented in the film.