Advertisement

  

Advertisement

Prateik wows in Dhobi Ghat
Sonil Dedhia January 19, 2011 15:52 IST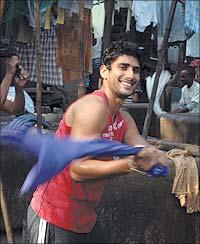 Sonil Dedhia reviews Dhobi Ghat. Post YOUR reviews here!
It's important for a first-time director to get things right. And mind you, debutante director Kiran Rao [Images] almost does. But just when she gets to the top of the hill, an avalanche strikes.
Dhobi Ghat is an unusual 95-minute film without an interval, unlike regular Hindi films. You don't know what turn the story will take. Even the characters are unpredictable.
And if you're expecting an Aamir Khan [Images] film, let me tell you, it's not.

Dhobi Ghat is a film about four people from different backgrounds: Arun (Aamir Khan) is a painter, who's a complete loner. Shai (Monica Dogra) is an investment banker from America, who is on a sabbatical. Zohaib alias Munna (Prateik Babbar) is a dhobi by day, rat killer by night and a wannabe actor in between. Yasmin (Kriti Malhotra) is a naive and shy newlywed.
The four stories get entwined with the fifth character, Mumbai [Images], the city of dreams, hope and survival.
Mumbai has been an inspiration for many filmmakers and has been highlighted in many films. But it is Dhobi Ghat that gets you into the small by-lanes that we haven't really seen before.
Cinematographer Tushar Kanti Ray deserves a standing ovation for showing off beautiful landscapes, colourful sunsets over Marine Drive [Images], the festival of Ramzan being celebrated at Minara Masjid, the constant traffic, crowded streets and heavy rains, where one can actually feel the raindrops.
Full marks to Kiran Rao for using an innovative idea of capturing the essence of Mumbai through multiple formats. Yasmin's character is shown as a video diary, and that is amazing.
Jyotkia Jain's black and white still photography is a treat to watch. She explores the different kinds of people in the city.
The paintings, done by Ravi Mandlik and Sukanya Ghosh, stand apart and brings out what goes on inside Arun's mind. Oscar-winning Argentine composer Gustavo Santaolalla's (Brokeback Mountain and Babel [Images]) music deserves a mention. It is in sync with the mood of the film.
Kiran Rao has tried to be as realistic as possible, and that's the USP of the film. Her choice of subject and handling is one of the reasons that makes this film watchable. But the film is not a straight-line narrative and so gets complex, and lacks clarity. The editing could have been tighter as well. The tense moments get too heavy after a point and would work only for a handful who appreciate realistic cinema.
The film clearly belongs to Prateik Babbar and newcomer Monica Dogra. Prateik gets under the skin of the character with ease and performs beautifully. His mannerisms and body language take you by surprise. Dhobi Ghat will definitely open many more avenues for the young actor.
Watch out for him in these two particular scenes: When he gets jealous with the liftman and in the end, when he chases Shai's car.
Monica is splendid to watch. She makes her presence felt everytime she's on screen.
Kirti Malhotra, as Yasmin, leaves a solid impression.
Aamir Khan's presence in the film, however, is a big question. He tries to restrain his character and that does not work for him. His English dialogues don't sound fluent. In fact, he's quite the misfit in the film.
Dhobi Ghat is sure to find a niche audience and will be a hit in festival circuits. Being a Mumbai-centric film, it may connect with the audience in the city. But it needs to be seen whether it will find takers in other parts of the country.
Rediff Rating: