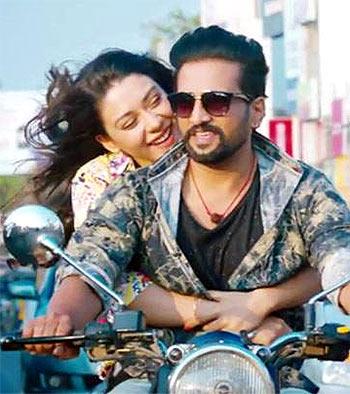 Dhilluku Dhuddu is an unremarkable horror comedy, writes S Saraswathi.
Santhanam has tried every trick in the book to change the viewer's perception of him as a comedy actor. He has lost weight, acquired a new wardrobe, a smart hairstyle, and perfected his dance, action and romantic skills.
Though he still makes witty one liners, the inherent sarcasm and nonchalant attitude that made him one of the most loved comedy actors is sadly missing.
His latest offering titled Dhilluku Dhuddu is directed by newcomer Rambala, who is known for his popular television series Lollu Sabha on Vijay TV. In fact, Santhanam, who began his career in television, gained popularity as a comedian on this show before graduating to cinema.
Dhilluku Dhuddu is a horror comedy, about a clever father attempting to protect his daughter from marrying her penniless lover. You can barely sit through the first half of the film, which is solely dedicated to prove Santhanam's potential as a hero.
There is a ridiculous childhood flashback establishing the romance between Kumar (Santhanam) and Kajol (newcomer Shanaya).
The problem predictably is the rich father played by Saurabh Shukla.
A plot is hatched to get Kumar killed with the help of a local thug (Rajendran). Kumar and his family are enticed into a haunted mansion at a hill station with the promise of marriage.
At the end of the first half, all the characters find themselves in the mansion struggling to survive.
None of the performances stand out, but Rajendran and Saurabh Shukla manage to provide some laughs. While there is nothing to say about debutante Shanaya with her terrible lip syncing skills, Santhanam appears to be trying too hard and ends up sacrificing his spontaneity instead.
Music by S Thaman is ordinary.
Cinematographer Deepak Kumar Pathy does succeed in creating the dark and spooky ambience.
Despite the number of comedy characters and the hilarious situation they find themselves in, the laugh out loud moments are very few. Weak screenplay, ordinary performances, slow pace and an uninspiring execution make director Rambala's Dhilluku Dhuddu an unremarkable horror comedy that is not worth your time.
Rediff Rating: