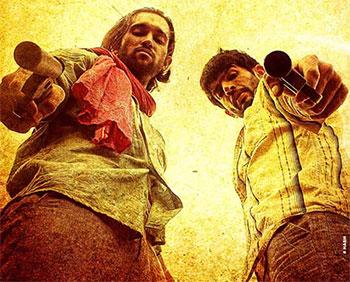 Desi Kattey is an insipid mishmash of just about every script engaging two friends going separate ways meets underdog sports hero, rants Sukanya Verma.
A game of connect-the-dots on a blank sheet is how I can best sum up Anand Kumar's giant bore named Desi Kattey. Everything happens so randomly in this story of two childhood friends who grow up to become ace marksmen in the world of crime.
If one (Jay Bhanushali) wants to make amends and use his skill to represent India in shooting sports, the other (Akhil Kapur) wishes to gain power by pulling the trigger for unlawful purposes.
A subject involving men, who enjoy firing bullets with a background score provided by Amar 'BAM BOOM BADANG' Mohile, is what aural nightmares are made of. And that's pretty much what I endured while sitting through this racket of a film that doesn't make even sense.
What's particularly daft about Desi Kattey -- an insipid mishmash of just about every script engaging two friends going separate ways meets underdog sports hero -- is how forced the events look.
It's like the whole filming happened even as the writers cooked something up along the way. One minute, the boys bump off a dangerous hoodlum's (Ashutosh Rana) man, the next they claim to be his biggest fans with cuttings of his heroics plastered all over the wall. What heroics? What news? And, pray, what's an ex-armyman (Suniel Shetty) doing near a shady warehouse inspecting an on-going exchange of fire between two gangs in the middle of nowhere anyway?
I'll tell you what this modern-day Thakur Baldev Singh is up to. He's looking for extraordinary shooters to win gold for India because he couldn't owing to some "conspiracy" Desi Kattey is too lazy to inform us about.
A remarkably composed Shetty goes about training his protégé with a straight face even when mouthing lines like, "Do dhadkanon ke beech mein jo time gap hai that's your target." No wonder Bhanushali touches his feet in the end to pay his respects.
Bhanushali's greatest appeal is his pretty face and that's concealed behind loads of facial hair that's more suitable for a cast member of the Planet of the Apes. Squinting both eyes with all his might is the maximum intensity he can conjure up. It looks marginally less annoying when compared to Akhil Kapur's constantly bobbing head.
Know what's worse than an inexpressive actor? An inexpressive actor in slow motion.
Having said that, neither is a patch on the inimitable Sasha Agha. Grunt, grin, grunt, grin, grunt, grin, that's what she does. Rather, that's all she does.
Plot wise, I could rant endlessly but suddenly, I remember what one character said during the movie, "Dimaag pe zor mat lagao."
That's the least I can do given the zor and shor my eardrums suffered today.
Rediff Rating: