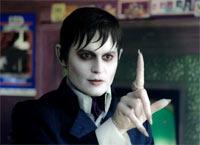 Johnny Depp's latest film Dark Shadows is quite homogeneous, with the same darkness and the same quirkiness, writes Shaikh Ayaz.

Watching Johnny Depp play tricks with his long-nailed, slender fingers in Tim Burton's Dark Shadows reminded me of another of the duo's gothic-fantasy collaborations, Edward Scissorhands.

The two films are in no way co-related but it is remarkable how, in both, Depp plays a character grappling with modern-day inventions.

He wants to be useful but ends up either complicating a situation or causing harm. But that's never his intention. His ignorance of the modern world stems from his absence from civilisation for years -- here, in Dark Shadows, he is a vampire, locked away in a box for nearly two centuries. And while he is taking a nap, the world outside has changed. It's the age of rock and roll, pubs and Chevys.  

Depp plays Barnabas Collins, an enterprising young man whose family has amassed a fortune in the fishing business in Liverpool in 1752. They are so powerful, Medici-style, that they practically own the waters.

'Family is the only real wealth,' Barnabas is taught by his father, and that blood is what 'defines us and curses us'.
As a handsome man, he conducts a brief fling with Angelique Bouchard (Eva Green) but from her side, it is devotion and love. It turns out she is a witch. Spurned, she curses the Collins, calling upon their destruction and despair. She inters Barnabas alive and when his coffin is finally broken upon, in 1972, he kills people and drinks blood before paying a visit to the enduring Collins at Collinwood, the manor he saw being built in his youth.
This portion of the film is by far the most entertaining. Barnabas is amused by the living Collins. There is David, a lonely orphan, Carolyn (Chloë Grace Moretz), a music-crazed teenager, Dr Hoffman (Helena Bonham Carter) and Elizabeth (Michelle Pfeiffer), the family matriarch. Urged on to fight for the family honour, Barnabas swears to restore the lost glory of Collins. As always, there is Angelique -- who has built an empire and won't part with it easily -- to contend with.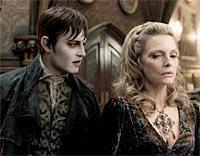 Burton creates an adventurous world of dark magic, hypnotism, vampires and werewolves. There is a Burton stamp on the gothic mansions and its inhabitants and certain scenes, like the wild lovemaking one between Barnabas and Angelique (vampire-style) or the discussion on balls (social gathering) that gets interpreted out of context.
And of course, Johnny Depp who proves, by picking on such roles, that he is the most interesting and experimental actor of our times.
Yet, Dark Shadows plays out real slow and after a point, it becomes tedious. In that respect, Burton's cinema itself is becoming rather homogeneous; the same darkness, the same quirkiness.
Rediff Rating: