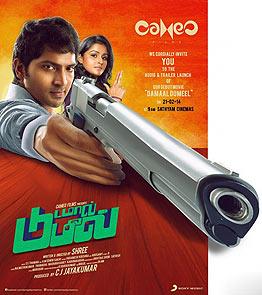 Despite its faults, Damaal Dumeel is engaging in parts, writes S Saraswathi.
Damaal Dumeel, a dark comedy thriller, is directed by debutant Shree, who had assisted director Shankar in the making of Enthiran. It sets out to prove the adage that 'Money is the root of all Evil'.
Life turns upside down for Moneykandan (Vaibhav) when fate suddenly delivers Rs 5 crore at his doorstep.
An IT professional, Moneykandan (spelt as per numerology) enjoys a well-settled life with a great career and a beautiful girlfriend.
He is the sole breadwinner of his family and is about to get his sister married when unexpectedly he is thrown out of his job and his whole world collapses.
Thoughts of giving up his extravagant lifestyle, his girlfriend deserting him and his sister's upcoming marriage torture him and he is devastated.
It is at this point that a mix-up accidentally lands Rs 5 crore at his doorstep. There are absolutely no second thoughts as he believes that God has given him this opportunity and he would be a fool not to take it.
This unfortunate decision backfires on him. The money actually belongs to Ilavarasu (Kota Srinivasa Rao), a much-feared local goon. It was to be delivered to Kamatchi Sundaram (Sayaji Shinde), who is on the run from the law for a fake drug racket.
Moneykandan is now caught between these two dangerous criminals. This leads to a series of incidents: people get killed one after the other and soon the situation escalates beyond Moneykandan's control.
Can he eventually get back his life or is he too far gone?
The romantic angle has not been given much importance and Meera (Remya Nambeesan), who plays his girlfriend, has mostly been ignored. But she has sung a beautiful number, Pogadhae Pogadhae that has become quite popular.
S S Thaman's background score too is appealing and provides the right atmosphere.
Though Vaibhav has made his presence felt in several multi-star films such as Goa, Saroja and Mankatha, this is his first as a full-fledged solo hero. And though he has given a decent performance, he does seem to be struggling with certain expressions during crucial moments in the film.
Kota Srinivasa Rao and Sayaji Shinde have been playing bad guys for so long that it has become second nature to them.
At just under two hours, the film does race along. Credit should be given to editor Paramesh Krishna for maintaining the pace of the narrative throughout.
Towards the end, however, the film loses its gravity and takes on a more humorous turn and as usual the joke is on the villains.
The elements of suspense and intrigue that keep the audience engrossed in the first half hour are totally lost as the plot unravels.
The situation gets more and more ludicrous. This is perhaps an attempt at black comedy, but it falls completely flat, especially in the climax.
Director Shree's Damaal Dumeel captures the attention of the viewer at the start and also maintains a healthy pace, but one feels let down. The film doesn't convey a sense of the desperation of the situation and of all hell breaking lose.
Despite its faults, the film is engaging in parts.
Rediff Rating: