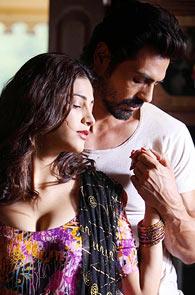 D-Day has all the right ingredients that make it a memorable film, writes Paloma Sharma.

Director Nikhil Advani's sixth venture, D-Day, is all quick, slick and risky.
The film follows an unconventional story and stars an unconventional cast, including Huma Qureshi, Irrfan Khan, Arjun Rampal, Rishi Kapoor, Shruti Hassan and Akaash Dahiya, which works for it better than any star-studded ensemble could have.
Co-produced by DAR Motion Pictures and Emmay Entertainment Private Limited, D-Day is more than just another film on just another Friday.

Based on a script so meticulously researched that it is hard to tell that the story is fictional, this film is shot on sets so real that you might end up thinking you're in Karachi; and Karachi, as the film reveals, is a very interesting place.
D-Day follows the story of Wali Khan (Irrfan Khan), an agent who was sent to Karachi by R&AW Chief Ashwini Rao (Nassar), to report on the activities of India's most wanted man -- Iqbal Seth (Rishi Kapoor).
Iqbal Seth is a terrorist masquerading as a businessman. Also known by the names of Bhai and Goldman, he lives a life of luxury in Karachi. However, his movements are constantly monitored and heavily restricted by the ISI. It is hard to get access to him, even harder to gather information on him.
But when Wali finds out that Iqbal Seth will be attending the wedding of his son, against the ISI's wishes, he believes that the perfect time to execute his plan has arrived. Three others agents are sent to infiltrate Pakistan and help carry out Mission Goldman.

During the course of events, the lives of Zoya Rehman (Huma Qureshi), R&AW explosives expert, Aslam (Akaash Dahiya), a small-time crook from Mumbai who makes a deal to avoid serving time and Captain Rudra Pratap Singh (Arjun Rampal), from the Indian Armed Forces, become irreversibly intertwined with Wali's own.

Each one has something broken inside of them; each one will give anything for the mission.
When the day of executing Operation Goldman arrives, everything goes as planned. All agents are in position. Iqbal Seth arrives with his posse and steps right into their trap. They are about to take him alive when something goes terribly wrong.
Rishi Kapoor plays the suave baddie with admirable ease. His look, dialogues and the way he switches to Marathi when his temper soars -- everything about him seems to be the real deal.
Irrfan Khan delivers, yet again, with alarming consistency. It is a pleasure to watch him as Wali Khan, a man torn between being a father and a husband to his Pakistani family and an Indian R&AW agent who will do whatever it takes to protect his country.
Huma Qureshi gets her part right.

As R&AW explosives expert Zoya Rehman, she portrays a strong female character that is (thankfully) not left to rely on her charms but on her skills with ammunition.

If Qureshi keeps this up, she could one day emerge as one of the most versatile actresses this country's seen.

Akaash Dahiya was a welcome surprise as Aslam, a small-time criminal who agrees to infiltrate Iqbal Seth's gang in Karachi for Ashwini Rao in exchange for wiping his crimes off the record. Throughout the film, we see Aslam work hard to find his place in the team and when he finally does, it feels like a personal victory for the viewer.
Shruti Hassan is perfect as a Karachi prostitute with a haunting aura about her. Pain is her defining characteristic. She knows she is doomed, that no one will save her but she makes her peace with it.
As for Arjun Rampal's performance, for all the years that critics have viciously claimed that he cannot act, Rampal's performance speaks volumes for itself. This could easily be his best (yes, Rock On! included).
The film's five songs seldom interfere with the storyline, a commendable feat in itself. Shruti Hassan lends her voice to Alvida, along with Nikhil D'Souza, Loy Mendosa and Sukhwinder Singh.

Alvida stands out as the most memorable track in the film, perhaps because of its picturisation and the way it tells a story of pain, love and loss. Diverse in their styles and stories, Murshid Khele Holi, Ek Ghadi and Dhuaan beautifully showcase music director trio Shankar-Ehsaan-Loy's talent.

Adding Duma Dum to the D-Day soundtrack was a thoughtful touch because what Pakistani-Punjabi wedding is complete without it? As enjoyable as the song was in itself, the real star of Duma Dum was Rajpal Yadav's energetic performance as an overly enthusiastic wedding singer.
D-Day is what people like me wait Friday after Friday for. It does what it needs to and does not preach but leaves an impact strong enough to make you ask questions. It manages to bring out patriotism in you without the theatrics.
It has it all -- an iron-clad story, strong characters, believable performances and music you'll want to put on loop for the a few days.

Complete with subtle references, pinches of dark humour and ironic symbolism, this is a film you didn't know you'd been waiting for until you see it on the big screen.

A million lines with be written in its praise, I am sure, but to put it simply -- D-Day is a dream come true.

Rediff Rating: