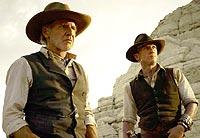 Shaikh Ayaz feels that Cowboys & Aliens squanders the legacy of Westerns. Post YOUR reviews here!

The Westerns worked on similar themes and motifs and relied most often on skilfully-written scripts, star power and dialogue. Naturally, it became a beloved legacy of not only the Americans but of all passionate movie-goers anywhere in the world.
Cowboys & Aliens
squanders that legacy without so much as blinking an eye.
There's not a single piece of line that you carry back home, a brazen insult to the genre which is credited with some of the greatest quotes in movie history. Until it arrives at its breathtaking climax,
Cowboys & Aliens
is who-is-who guess game with the Apaches, thieves and bandits intersecting Jake (Daniel Craig) at the Old West.
Like in so many Westerns, the wandering cowboy Jake enters the Absolution town with a picture of his lost lady love (Abigail Spencer), a bracelet-like device wrapped around his wrist and with a mind as blank as a clean slate. Absolution is controlled by Colonel Dolarhyde (Harrison Ford) who upon foreseeing a possible danger from the vicious spaceships hooks up with Jake to save their town.
The classic Westerns always had the American prevailing over the Indian in historically-charged conflicts.
For great Western heroes such as John Wayne, Henry Fonda and Gary Cooper, the enemy common and endemic was encroachment of what was rightfully their home. In
Cowboys & Aliens
, the concerns become grander, because Jake and the Colonel aren't up against a human force but against an unknown opponent that is oblivious to the rules of humanity.
Director Jon Favreau draws on the old Western stock characters; there are gun-slingers, bounty hunters, wanderers and the saloons. But the only scene that confirms that you are watching a Western is when the Marshall storms into the saloon where Jake is having a drink and asks him to turn himself over to the law-enforcers because he's wanted.
In that sense,
Cowboys & Aliens
owes more to the adventure genre of
Indiana Jones
than the Western. The characters are unsympathetic and desensitised probably because they aren't really fighting humans. Why does Favreau divest his characters of their humanity? Jake is too callously stoic. He doesn't have the qualities that made Wyatt Earp, Rooster Cogburn or Cole Thornton so memorable and alive even today.
What I find disturbing here is the marked lack of humour, the laughter and mirth.
Cowboys & Aliens
takes itself far too seriously and ends up only as a coldly detached saga of men in ruthless duel with a power that can never be realistically defeated.
Rediff Rating: