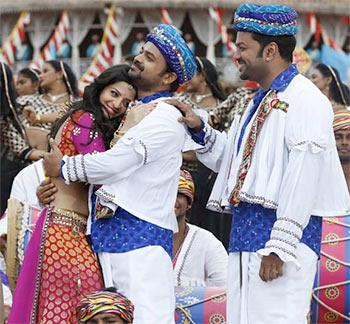 Cousins is not an auspicious beginning to the festive season, says Paresh C Palicha.
Malayalam director Vysakh is an unabashed supporter of commercial filmmaking that sees nothing beyond box office collections. If you've seen one film, you've seen it all.
His latest film Cousins is made to cash in on the festive season, and is believed to have one of the costliest songs shot in Malayalam cinema with Kunchacko Boban in the lead and Indrajith, Suraj Venjaramood and Joju George supporting him.
The story of Cousins is exactly the same as his previous outing, Seniors (2011), where four aged friends re-enter a college campus as post graduate students to relive their younger days. Jayaram played the leader of these friends.
In Cousins, we have Sam (Kunchacko Boban), who has lost the memories his students days in Manipal due to a fatal head injury and that is creating problems in his present life.
So, his cousins Joji (Indrajith), Pauly (Suraj Venjaramood) and Tony (Joju George) plan to take him to Manipal by road and the story happens en route in a place called Chandragiri, which is still an old world kingdom ruled by a North Indian clan headed by Pradeed Rawat.
The North Indian milieu provides justifications for having colourful costumes, mammoth settings and hundreds of group dancers.
Sethu's script is pedestrian, and caters to front benchers, providing them a thrill per minute, thanks to comedy, comic and a hugely mounted song. Added to this is the palace in Benguluru, the primary location of shooting.
It may make you wonder that why actors like Kunchacko Boban and Indrajith okay stories that doesn't even have the basics in place. It may have been the reputation of the director who can rake in the moolah at the box office that proved to be the deciding factor for them.
The only actor who seem to have benefited from this hackneyed venture is Joju George, who is cementing his position as comic sidekick in his movies. Here also, he gets numerous opportunities to be in scenes that will be repeatedly shown in mimicry-based comedy on TV in the years to come.
Cousins is not an auspicious beginning to the festive season as it is crass and hackneyed.

Rediff Rating: