Sandeep Modi's Chumbak spins a magical web around you, says Prasanna D Zore.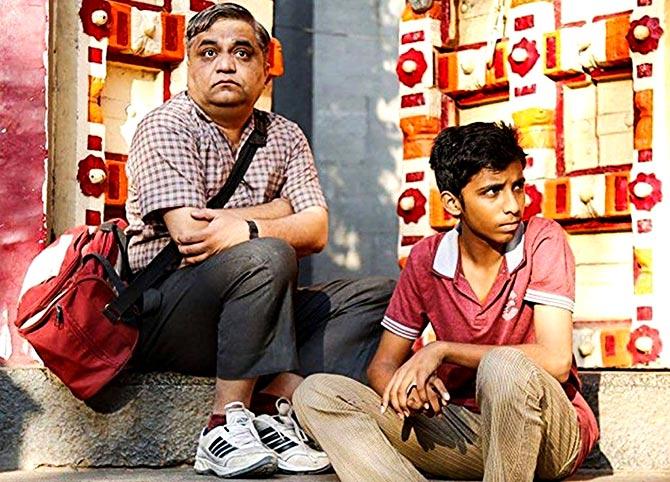 The dream ends only when Chumbak's lead Bhalchandra alias Balu (subdued, yet a powerful performance by Sahil Jadhav) says, 'Vaat chuklo hoto (I had lost my way)' as the 118-minute film ends in picturesque Lotewadi, a small hamlet in Solapur, on the Mumbai-Solapur highway.
Balu, a waiter, who dreams about setting up a sugarcane juice shop in his hometown Ambegaon and his mobile-repairer friend Disco (a flamboyant Sangram Desai), are trying to eke out a living in Mumbai.
Disco is an adult, street smart and fleeces his customers without a scruple on his face or heart.
Balu, an innocent 15 year old, to achieve his dream, gets overwhelmed by it. He decides to shrug off his honesty, as the duo set out to make Rs 16,000 without caring too much about the means.
The two friends float a Nigerian lottery fraud, a Ponzi scheme, but not before they get nicked by a similar scheme to double Balu's Rs 8,000.
P G Thombare, aka Prasanna Thombare -- Swanand Kirkire as never seen before on screen -- a middle-aged man with an intellectual disability falls prey to their swindle and Modi uses the proceedings to take the film to a new zone entirely.
Without dwelling too much on the details of the plot, the chemistry among the three main characters gets surreal as they cross one hurdle after another, con each other and any person that crosses their path.
Modi and his co-writer Saurabh Bhave spins Chumbak into a non-linear narrative as Balu and Prasanna begin their journey back home, back to their roots, back to their homes, back to their innocence.
It is this journey, more than the the film's story or its moral, that keeps you glued to your seat.
In the first half of the film, Balu and Disco try to hoodwink Prasanna and steal his valuables to make for the shortfall, but the latter keeps pulling them towards him.
In the second half, which is more riveting than the first segment, Balu gets torn between cheating Prasanna to achieve his dream and his affection for an intellectually-disabled, but equally adorable, Prasanna, who gets sucked into their fraud.
Modi brings out the best in a conniving, cheating, loving Balu even as he gives Prasanna's character the necessary naivete that Balu and Disco exploit to expose the emotional churn that goes inside a human mind as it struggles to come to terms with the gap between dreams and realities.
The entire star cast, in front of the camera and behind it, make Chumbak magical, magnetic.
Rediff Rating: