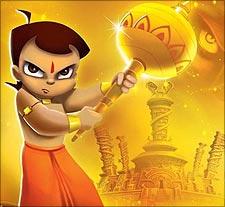 Chhota Bheem is a fun treat for kids, writes Sukanya Verma, and Chhota Bheem ardent fan Kangna Kamdar, 5.
When I was growing up, Doordarshan's afternoon transmission, Disney Hour on Sunday morning and an occasional VCR rental of an animated classic was all I had in the name of entertainment exclusively meant for me and my age group. And so even
Baingan Raja
and NFDC's short films (
Ek Chidiya
) remain cherished in my generation's collective memory.
With time and alternatives, the above views have changed considerably and I confess I hadn't the slightest inkling about
Chhota Bheem
or what makes the
dhoti-
clad hero such a big deal.  
Some nine years ago, when I covered the
launch
of only-for-kids channel Pogo,
Chhota Bheem
was a non-entity. Today,
Chhota Bheem
, even in its humble 2D form, is a hugely popular star of the small screen with a commendable fan base of young 'uns.
So I decided to bring along my five-year-old neighbour Kangna Kamdar to a first day first show screening and pitch in her unique logic and views for a clear perspective. She is, after all, the bona fide audience of
Chhota Bheem
.
Kangna is one of the most happy-go-lucky, lively and well-behaved kids I know. She attends Jamnabai Narsee School and loves to draw, swim, run, dance, jump on the bed, eat cheese pizza, chocolate pastry and wear pink for as many as five days a week. She watches Doraemon, Chhota Bheem and Mr Bean every single day without fail and can never have enough of Disney's Cinderella.
When I asked Kangna if she would review Chhota Bheem with me she was visibly thrilled and didn't waste any time in informing this exciting new development to all her friends in the colony.
Now I do watch Doraemon rather religiously myself and have often wished for his gadgets to fix life in general but Chhota Bheem's 15-minute adventure capsules never drew me in. Having finally watched the nine-year old super hero in his first ever movie avatar, I admit to understand what the fuss is all about.
It's the eternal tale of good versus evil wherein a boy wonder along with his squad of Raju (the bald baby), Chutki (representing girl power), Jaggu (the talking monkey), Kaalia (the hefty bully), Dholu and Bholu (Kaalia's twin sidekicks) time travel to take on an army of enchanted snakes and fierce sorcerers in the mythological city of Sonapur to save the harassed public from torment and exploitation.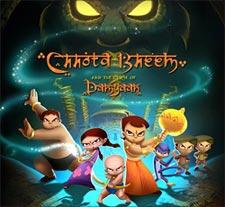 While the animation is strictly average, often taking amusing inspiration -- the magical ring from The Lord of the Rings Trilogy, Dementors from the Harry Potter series, the snake king bears striking resemblance to Beast from Beauty and the Beast --

and hardly an upgrade from what you see on television, the scale and ideas are decidedly bigger and better. Or so Kangna insists.

Here's a summary of her reactions:

Chhota Bheem origins
I have been watching Chhota Bheem since every day. I was waiting to watch its movie because Chhota Bheem is so much fun. And because Raju is so cute.

Chhota Bheem rocks
Chhota Bheem is strong. Chota Bheem's movie is good.

Chhota Schwarzenegger
There was a bad snake (She's referring to Damyaan, the evil sorcerer in the form of a demonic snake). Chhota Bheem fights with the snake. I liked the fights very much. I like how he fights with his gadda (mace). That scene where black snake's army of snakes had captured the children is my other favourite.

Kaale se darr gayi kya?
In that picture, the bad snake was black in colour. (Note how the varying shade of darkness in a character's complexion is equally proportional to the increasing degree of vileness in the same.)

Spoiler alert!
Dholu and Bholo become red and yellow frogs.

Raju infatuation continues
Raju is so cute and bald.

Dare not forget the laddoos!
When Chota Bheem sees the laddoo (laddoos are a vital feature of the Chhota Bheem series, mind you), he just gets happy. Indumati and Chutki feed Bheem the laddoo cake. I like that because it's very yummy.

Braveheart Kangna!
I wasn't scared (of the giant snakes or spiders) because it is jhooti-moothi (fictitious). But if it was for real, I would be frightened.

A whole new world
Chota Bheem's world is very good. Sonapur world is also very good but lots of scary things were there. In Sonapur's gold castle, there was a diamond-shaped key. Bad people (a misled King and his army) went to Sonapur and dug it and then they released Damyaan.

Budding fashionista
Chutki has pink, purple frock. And Indumati has a blue frock. I wish there was more of Indumati in the film. But, at least, she comes in the end so I am happy.

That's pretty much the point, isn't it? If the cheering laughs of Kangna and other kids in the theatre are any indication, your little one is going to lap it up.  If you don't have kids, going into the movie hall will give you an actual idea of What to Expect When You're Expecting (or In The Near Future at least) given that it is the title of one of the Friday releases this week.

I asked Kangna to award the animation stars on a scale of one to five. Pat came the reply -100 stars! No point arguing with Chhota Bheem's not-so-Chhota fan-following, is there?