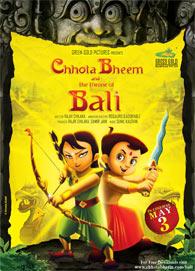 Dhairya Soni, 10, says he prefers the television series to the big screen version of Chhota Bheem, called Chhota Bheem and the Throne of Bali.

I saw the first show of Chhota Bheem and the Throne of Bali.

I like the characters of Bheem and Prince Arjun, they make a really good pair. Chhota Bheem was the real prince of the movie.

Rangda, the demon in the movie, was very dangerous so some children were scared watching the movie. Rangda's army was not as strong as Bheem and Arjun.

Bheem and Arjun are good fighters.

Bheem and Arjun have the support of monkeys, as Jaggu (Bheem's pet monkey) asked some other monkeys to help them.

When Rangda becomes strong, she becomes greedy and starts speaking in another language. Her army starts to fly.

I like the funny role of Dholu and Bolu; their acting was very good and heaps of fun.

Bheem is dressed in a "langot" that looks very nice and Chutki (Bheem's best friend) wears a sari and looks very cute and lovely.

Kalia's and Raju's costumes are not so good.

The background of the movie is attractive and the songs are perfect.

What I like the best is that Chhota Bheem defeated the demon.

I like Chhota Bheem very much but yet, I preferred the television series to the film.
Dhairya Soni, all of 10 years, simply cannot get enough of Chhota Bheem.
Rediff Rating: