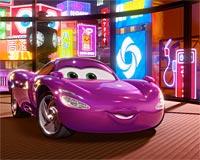 Preeti Arora recommends Cars 2 to children as well as adults. Post YOUR reviews here!

As far as animation goes, Pixar have given us some of the most vibrant, heart-warming pictures conceivable. Every 1990's kid with a normal childhood will remember their first production, Toy Story. Almost two decades later, Pixar is successfully continuing this trend. Can they make a bad film, ever? Possibly not.

Cars 2 is more than just quality animation, and it's more than just a film. It's the dream of every pre-pubescent male who spends hours in his room, constructing stories with and breathing life into his toy cars.

The concept of the film lies in the same vein as its predecessor. Only now, Pixar have taken that vein and pumped it chockfull with steroids. So, while Cars might have been simply about adding a pair of eyes and a mouth to an automobile, Cars 2 is about adding on high-powered rocket engines, spy cameras and grappling hooks.
Cars, the first installment in 2006 was a mere experiment on Pixar's part at incorporating human characteristics into something entirely non-human. It's a concept that the studio has stretched all the way home, having previously exploited it in Wall-E, Finding Nemo, and Toy Story.
Cars would have undoubtedly posed a far more serious challenge. Talking toys are easy to pass off, talking vehicles are not. But somehow, somewhere, the idea worked. And since it did, Cars 2 is where director John Lasseter builds on the immense possibilities that the first film ascertained in all its tentative adventurism.

What's so brilliant about Cars 2 is the sheer attention to detail. Being set all over the world, the accuracy with which Pixar has re-created the cultures and nuances of Japan, France and Italy for the animated medium is commendable, even more so when you stop to consider that the objects of recreation are not even actual people. They're just cars, and this is something one tends to forget, sometimes.
Backed by the visual splendor that is taken for granted when it comes to a Pixar feature, the characters, their actions, their locations and their dialogues prove to be as endearing to grown-ups as they are to children.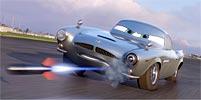 Story-wise, Cars 2 expands improvingly on its narrative when compared to the sentimental drama of the original. A caricatured James Bond-esque spy-thriller story forms the basis of this film, with an appropriate soundtrack reminiscent of British spy films.
In an unlikely and unpredictable twist of plot, the eventual hero of Cars 2 turns out to be Mater (Larry the cable guy), whom audiences will remember as the rusted old deuteragonist from the first film.
Lighting McQueen (Owen Wilson), our original protagonist now takes a backseat as his tow-truck friend does all the hero-work. Michael Caine playing Finn McMissile, the espionage agent is a new addition to the cast as is Emily Mortimer, who is brought in as Holly Shiftwell, Mater's eventual love interest.
While many original characters from Cars have diminished in their attendance, they make way for an entirely new band of characters that keep the film from putting on a jaded appearance and make it all the more compelling to watch. Frank Turturro and his mock accent as Francesco Bernoulli, the Italian Formula car is the most engaging of this new lot.

The only setback that Cars 2 suffers, however, is that audiences are unlikely to relate to it unless they have already seen its prequel. While the plotlines are conveniently detached, characters and references from the first film often pop up without bothering to explain themselves. This is hardly a negative quality of the film, only a slight hassle for those not already acquainted with the Cars franchise.
For the most part, Cars 2 promises to entertain both, children, with an appetite for clean humour as well as adults who revel in the innocent juvenility of a children's films.

Rediff Rating: