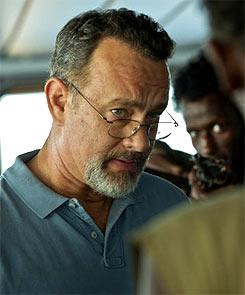 Captain Phillips is good entertainment that, thankfully, has its brain intact, writes Paloma Sharma.

When Richard Phillips leaves home and family behind in Vermont to captain a container ship, he is aware of the dangers that lurk off the East Coast of Africa (as every seaman would be). But little does he know that his life will never be the same after this trip.

Coming from the director of two Bourne films and United 93, Paul Greengrass's Captain Phillips is based on the true story of American mariner Richard Phillips and the hijacking of MV Maersk Alabama, a container ship that he was captain of, by Somali pirates.

Starring Tom Hanks in the title role, Captain Phillips reveals deeper layers of this hostage crisis that took place in April of 2009.

When the MV Maersk Alabama is first chased and then hijacked by a gang of Somali pirates, all hell breaks loose.

Captain Phillips immediately goes from being master of the ship to a captive of the leader of the Somali pirates, Muse (Barkhad Abdi). Miles off the coast, with no way to contact land, the chances of Phillips's survival get bleaker with every passing moment.

Captain Phillips stars no known face save for Tom Hanks. Whether luck or a well thought-out decision, the anonymity of the other actors is a boon for the film.

Although Tom Hanks clearly demonstrates why he deserved his two Academy Awards, one does wish he'd come out of playing an average Joe who rises to the occasion when the going gets tougher, and try something else for a change.

However, the true star of the film is Barkhad Abdi. A lean, almost malnourished-looking Abdi plays the fierce pirate leader Muse perfectly.

Yes, Muse is a pirate. Yes, Muse hijacks ships and kills people. But Abdi illustrates why Muse does so.

A man-child in a nation ravaged by civil war, a fisherman on seas that are poisoned, Muse is just as desperate to survive as Phillips. However, both know that only one can get out of this alive.

Greengrass handles Captain Phillips with great delicacy. He explores the motivations of the young boys who take up piracy and how Phillips, his country and the rest of the Haves have failed the other three-fourths of the world.


In one of the most memorable scenes in the film, Phillips and Muse have an ideological stand-off where Phillips tells Muse that there is more to life than murder and piracy. Muse shrugs nonchalantly, "Maybe in America".
Shot in tight spaces and suffocating close-ups, Captain Phillips attempts to be a thriller more than a docudrama, which is fine except for the fact that we all know that the real Richard Phillips did live to tell the tale (and write a book on it). The other reason that prevents the film from entering the thriller category is that it seems to be more about a clash of two ways of life, in Muse and Phillips, than about the rescue operation itself.

Nevertheless, Captain Phillips makes for an interesting watch – if you can survive the constant hammering of the background score. Just fast enough to keep you gripped, Captain Phillips is good entertainment that, thankfully, has its brain intact.

Rediff Rating: