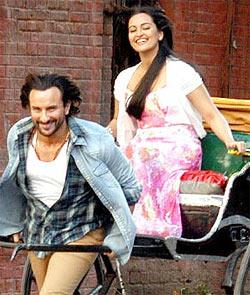 Bullett Raja is more ego trip than cinema, according to Paloma Sharma. In order to enjoy Bullett Raja, it is important to remember that this is not cinema -- it is simply an ego trip.

Unless you can relate to the characters, Bullet Raja will bore you to death.

Saif Ali Khan stars as Raja Mishra (pronounced: Miss-raa), a well-meaning yet trigger-happy local boy with a fiery temper.

Raja is being chased by goons when he sees a wedding procession and joins it in order to escape. The wedding procession turns out to be headed for the local strongman's daughter's wedding.

Raja immediately befriends the bride's cousin, Rudra Tripathi (Jimmy Shergill).

After a day of dancing, leeching and drinking, Raja sneaks into the forest for some sexytime with the unnamed item girl (Mahie Gill) when he overhears a plan to assassinate his new BFF and the rest of his family.

Raja decides to pick up arms for protection but unbeknownst to him, this decision gets him sucked into the dark, murky world of Uttar Pradesh politics.

Saif Ali Khan's Raja Mishra is the less sophisticated country cousin of Agent Vinod. Aside from the diction and the tikka, they're both basically the same guy. All that Khan does in the film is look angry.

Even his hair has more range than him.

Between
him and Jimmy Shergill, the latter seems to be the more seasoned actor. Shergill's Rudra Tripathi is the right blend of slick and believable.
Sonakshi Sinha is back to being the typical middle class, homely Bengali girl with big dreams -- dreams which she gives up at the drop of a hat to run away with her beloved Raja.
Ravi Kishan was handed an amazingly interesting character but unfortunately, the film chose to not explore its potential.
Also, it must be noted that the true star of the film is not Saif Ali Khan but Vidyut Jamwal despite him appearing only in the last half hour or so of the film.
Bullett Raja
claims to be an action flick but despite the
desi guttas
firing almost non-stop throughout the film, Jamwal is the only one who can pull off the tough guy act with ease.
The soundtrack is mediocre and the background score inappropriate at times, almost in contrast with the emotions that the actors are trying to portray.
Bullett Raja
is rife with predictable scenes, bad editing and a lack of control over the script, which spirals into an unending loop of absurdity. The pseudo-patriotism blends into personal enmity with the corrupt without much warning, leaving the viewers confused.
While no two people can like the same kind of films or even agree on the definition of a good film, it is difficult to judge if even hardcore Saif Ali Khan fans should go for this one.
Rediff Rating: