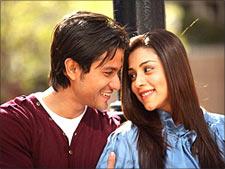 Blood Money is exceptionally hollow in its aspirations, writes Sukanya Verma.

'Abbe keede, you think you can steal from me, snarls a man in the dimly-lit basement before he goes on to drill the horrified target in the knee. The brutality of this incident would have had some impact if it wasn't for the villain's incessant produce of 'Do you know who I am?'
What it does instead is tell you right away that Blood Money is exceptionally hollow in its aspirations.
For a movie that is set against the flourishing diamond industry and broaches on its grey zones, Vishesh Films' latest offering is conspicuous by absence of detail and depiction. Devoid of any research it doesn't matter whether the story is set in South Africa or Surat.
Despite a minor resemblance to Edward Zwick's Blood Diamond in title and milieu Vishal Mahadkar's directorial debut isn't the same film. It's about a newly married couple -- Kunal (Kunal Khemu) and Arzoo (Amrita Puri) who comes to Cape Town with starry-eyed dreams that are instantaneously fulfilled when he joins a leading diamond exports firm. Given the ordinary reception he gets at work, it's comical to see just how big a furnished mansion a rank new employee has been awarded to live in.
Acknowledging the implausibility of it all, Arzoo remarks how this startling change of events and sprawling space reminds her of the dark fairy tale, Hansel and Gretel. Blood Money truly had the potential to develop into a quirky B-horror at this point by planting a creepy witch in the closet or something but they choose to explore a predictable territory with its bland retelling of how success leads to corruption and how realisation can find redemption.
Only this is not The Firm and its sloppily written script is incapable of constructing gravity or drama. Blood Money is inexcusably one-note and short on buildup -- things just happen one after the other like a flat, muted series of badly-shot stilted music videos. The songs (by Jeet Gannguli) are as monotonous as the insipid visuals they accompany.
Instead of spitting all that irksome gyaan via Manish Chaudhry's Zaveri, which almost always results into overlong scenes, it would be nice if the movie could have packed in some muscle. Sadly, Blood Money's amateurish content highlights this lack of ingenuity with amazing regularity.
Protagonists discuss karats and cutting of sparkling solitaire, corporate-terrorist outfit nexus, smuggling and mixing of blood diamonds with clean ones but when it comes to elaborating, documenting the workings of this particular industry or dwelling deep into the criminal aspect, there's nothing -- not even on a obligatory level. Unless you count a caricature in a pathan suit and turban representing international terrorism.
On the business front, a character takes a good long look at a diamond and approves it as valuable. A disinterested, sleepy camerawork doesn't bother to zoom in and support the man's point. It sure as hell has no problem finding close-ups of Kunal's hot employee (Mia Uyeda) when she slips (strips) into a seductive avatar.
The ensuing mindlessness is complimented by equally lacklustre performances.
Kunal Khemu displays none of the charisma, intensity or vulnerability that validates his transition from an pleasant go-getter to a compromised coward. The young man's needless huffing, puffing and folding lips in exasperation only draw attention to his inadequacies. Co-star Amrita Puri put up a delightful show in Aisha with her funny dialogue delivery. Turns out that is how she speaks. As the Devil in a Diamond baron's disguise, Manish Chaudhary does well with his analogies in a brief lunch scene but is limited to sporting a threatening frown for the rest of his role.
You don't have to be a diamond expert to tell a gem from a pebble. And so, unless stale stories, bad acting and bungled possibilities capture your fancy, Blood Money is much too sluggish, simplistic and boring to bother.

Rediff Rating: