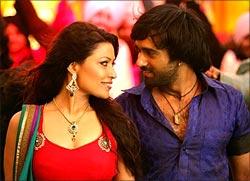 Bitto Boss is a sweet but slapdash effort and is quite like watching a wedding video, writes Raja Sen.
I've always believed there is a fine film lurking within the inimitable kitsch of the
shaadi
video.
Bittoo Boss
tragically enough isn't that film, but it does touch upon the way a large percentage of our vicarious video-visiting viewership enjoys watching couples encapsulated in heart-shaped boxes and slow-motion twirls set 'artfully' to
Ghazab Ka Hai Din
.
The craft of the wedding-video -- known all too well to anyone having attended more than a few North Indian
shaadis
-- is an unsubtle one, working for many of us almost like an online meme does: slotting people into caricatured roles for family and friends to point and jeer.
And yet, behind the blingy facade and the chart-paper palette and the Powerpointy transitions, there lies a peculiarly emotional connect. One might not personally applaud the plasticky aesthetics, but there is an inherent sincerity to the process, and even -- especially? -- to the clumsiness of said process. Even the most cringeworthy wedding video will moisten at least a few eyes, bring forth some gargantuan grins.
So yes, the tale of a wedding videographer is fine fodder for a film. Supavitra Babul's directorial debut, however, trying far too hard to be the next
Band Baaja Baaraat
, is a mostly amateurish effort which seems like relatively harmless fun before it turns sloppy. Leading man Pulkit Samrat brings some shaggy sincerity to the proceedings but is mostly surrounded by folks who can't act, and a sluggish, inexplicably banal plot.
As is bound to happen, our videographer hero falls in love with a girl above his station. This is hard to explain, since the said girl -- played by Amita Pathak -- has absolutely no redeeming features, a shrill and annoying woman who keeps spurning the hero till he leaves the small town where he is wedding-king
and goes out in the world to win a fortune and make his point.
By out in the world we mean Shimla, and to Babul's credit, the film does here take unexpectedly fresh and unexplored territory. As Bittoo finds himself an unlikely ally in a lascivious cabbie, the film veers into amorality and becomes suddenly interesting. Setting up cameras in order to capture, um, post-wedding videos, the duo is faced by a pair of unique couples, and the way Bittoo adapts to these random situations is both ingenious and original.
Then the girl comes back into the picture, and all runs aground rather quickly as the film, which could well have ended with their embrace, turns to conveniently resolved melodrama. Too bad, for if this film ended twenty minutes earlier, it'd have made for a pretty decent watch.
Sporting an Emraan Hashmi scruff mostly throughout the film, Pulkit Samrat brings a very obvious earnestness to the part, showing off his soap-opera background. He's pretty likeable, though, and if he shaves off his facial rugs, could be a good pick for the Mahender Singh Dhoni biopic. (You're welcome, producers.)
It would have been nice to see an actual actress in this role rather than Amita Pathak, but then the girl's character is a thankless one with barely any redeeming factor. Ashok Pathak is scene-stealingly good as Bittoo's randy right-hand-man, and Rajinder Sethi is reliable as ever.
A sweet but slapdash effort, this is, all in all, quite like watching a wedding video. Just not shot by someone with as much panache as Bittoo. And a
shaadi
video -- one without folks you care about -- always, invariably feels groanfully long.
Rediff Rating: