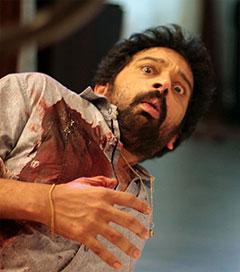 Rohit Khilnani says Bhoot Returns has quite a few nail-biting moments but ends abruptly.
While Ram Gopal Verma's 2003 film
Bhoot
was widely appreciated for some genuine edge-of-the-seat moments, the sequel
Bhoot Returns
merely plays around with the old plot and offers a rather abrupt end.
There is no doubt that Ramu knows his craft well and is a director who knows how to use technology. In
Bhoot
he played with sound effects and now in
Bhoot Returns
he has sound effects along with 3D!
His standard under-the-table shots work very well in the 3D format. For those who enjoy the horror genre,
Bhoot Returns
has enough to offer.
The setting is pretty much the same. Another family, another house (this time a bungalow) and a ghost who haunts the four walls. Tarun (J D Chakravarthi) and Namrata (Manisha Koirala) along with their kids move in to a beautiful bungalow which is on offer for a very low rent.
The family that stayed in the house before them has gone missing but no one seems to bother when and where they vanished. The house is haunted by Shabbu, an invisible ghost who is only visible to the couple's six year old daughter Nimmi.
Shabbu gives Nimmi a doll to break the ice. After that scary things happen in the house ever single night. The house help and Tarun's sister Pooja (Madhu Shalini) -- who has come over to stay during her holidays --
believe that the house is haunted and there is an external force doing scary things.
But Tarun refuses to acknowledge their apprehensions, and only believes it when he sees the ghost footage caught on CCTV cameras. A scan through the footage reveals that Shabbu, who Nimmi keeps talking about does exist in the house.
The first half of the film has quite a few nail biting scenes but post interval, the movie gets over on a rather abrupt note. The end credits roll in no time, leaving you with a sense that there's more to the story that the makers have missed.
Both the lead actors -- Manisha Koirala and J D Chakravarthi -- have worked with Ramu in the past and get a fair chance to show off their skills. The technical department does their job best. The audio effects, the 3D and background score by Sandeep Chowta come together to make the horror scenes work.
The running time of the film (around 90 minutes) works quite well.
Bhoot
was much better than
Bhoot Returns
and if Ramu plans to continue the series he should only return with it if he something better than the first film to offer.
Watch
Bhoot Returns
if you are a fan of horror flicks, the 3D experience will do justice to your money.
Rediff Rating: