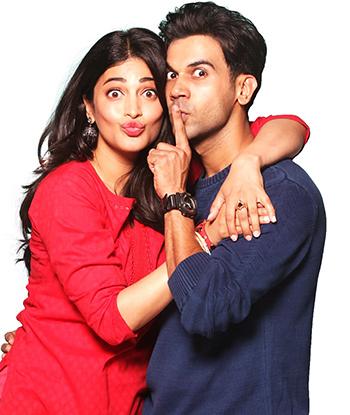 This hormone-crazy, romantic-comedy is let down by some tepid direction, notes Prasanna D Zore.
Most males -- there could be exceptions, but only just -- must have faced what Rajkumar Rao's Gattu goes through in Behen Hogi Teri.
This could have happened to you in your school, mohalla, or even college...
The thought of seeing a girl, who you love so much, tie you a rakhi is dreadful indeed.
And if the girl is so beautiful, so lovely, as Shruti Haasan's Binny is, then you are going to make desperate attempts to escape such a situation.
Gattu, is a good-for-nothing, hopeless, loser-lover, who dreams about marrying Binny -- a fun-loving, flirtatious neighbour. Gattu, of course, doesn't have the guts to openly express his love.
And the entire mohalla in Lucknow is dogged about making Gattu, Binny's rakhi brother.
With such a heart-tugging storyline -- that this country's youth could easily connect with -- director Ajay K Pannalal is often found groping in the dark to set the film's pace match your heartbeat.
The Shruti-Raj chemistry is worth dying for, but the director and story writer Vinit Vyas's ideas of a romantic-comedy quite don't match your expectations.
Raj has already proved he is an assured actor in any role assigned to him, but it is Shruti who surprises you with her comic timing and emotions.
Having made a mess of weaving this rom-com into a delightful watch, Pannalal scores with his potshot at the need for an Aadhar card (watch the film for more on this; but if you aren't discerning enough, you might miss the scene) and when his Gattu, in his drunken stupor, takes on SRK's 'Rahul' along with his chum Herry Tangiri.
Of Tangiri it must be said that he shines brightly even under Raj's shadow!
The two childhood chums compliment each other well as they take on Tangiri's criminal family: Veteran actor Ranjeet and Gulshan Grover (blood-thirsty Jats in a Punjabi locality in Lucknow?).
While your heart develops a soft corner for all the characters in the film -- Gattu's father Darshan Jariwala; Binny's brother Ninad Kamat -- Behen Hogi Teri's climax could have been far more better than what it is.
I would have loved to see Pannalal do a spoof on Dilwale Dulhaniya Le Jayenge's climax just as he has us in splits with his take on SRK's Rahul.
Rediff Rating: