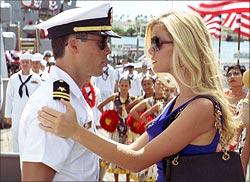 Shaikh Ayaz writes that Battleship is is like being in a fireworks factory.

In the end, this week's Hollywood release Battleship looked like Alex Hopper (Taylor Kitsch) saved the world -- in his own words -- just so that he can win over his lover, Samantha's (Brooklyn Decker) father, a stern Vice Admiral who wouldn't be convinced with any lesser feat.

If there was no girl, there would have virtually been no plot points in Peter Berg's Battleship.

It all begins on a comic note; at a bar, Hopper spots a famished Samantha and promises to return with chicken burrito. He breaks into the neighbourhood bodega and steals it for her but is shortly nabbed by the cops.

This, by no logic, gives you any indication what would be coming your way but those in the know of its alien invasion subject would not find anything either surprising -- or new.
Meanwhile, Hopper is soon enlisted in the navy and continues to antagonise the Vice Admiral. Provoked by his bad behaviour, he admonishes Hopper: 'What my daughter sees in you is a mystery to me.'
It is at this point that the film picks speed.
The maritime exercise turns into a battleground between the US armed forces and the aliens, shuffling about in Transformers-like armour. Unlike other movies in this genre, Battleship offers an oceanic landscape for its action, because of which it gets a homogenous, yet distinctive look.
There is never any explanation about how the extraterrestrial contact is established, or why the aliens suddenly pay us a visit with what looks like an unvanquishable army.
Yet, it's even greater mystery how Hopper and a handful of crew, including Rihanna as a fearsome weapons expert, declare war on aliens -- and then, trump them so easily.
As a result, the climax doesn't hit you because the victory achieved is effortless and without any tactics and road maps.
The most rousing moment arrives when Hopper requests war veterans to help him sail a dysfunctional museum ship. Other than that, the interactions between trembling scientist Cal (Hamish Linklater) and paralysed war hero Mick (Greg Gadson) produce laughs every now and then but much of your time is spent wondering if you are in a fireworks factory, really. 
Rediff Rating: