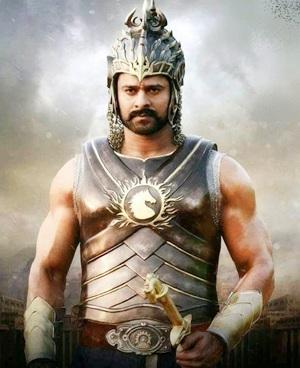 Almost three hours go like a breeze in the company of Bahubali's eclectic protagonists, where every single one makes an 'entry' designed for wolf-whistles, writes Sukanya Verma.
Three years back I watched my first Telugu film on big screen and the experience was so awesome, I struggled to find the words that'd do justice to the wonderment I felt.
It was an S S Rajamouli film named Eaga. And it was among my favourite films that year.
I was awe-struck by Rajamouli's ambition, audacity and unbridled imagination, his distaste for subtlety and appreciation for over-the-top. How he understands the science of extremes and transforms absurd into advantage is the main reason I was looking forward to Bahubali-The Beginning, said to be the most costly Indian film so far.
As it turns out, it is everything I expected it to be -- mega, ingenious and envelope pushing. There's never a dull moment in this 160-minutes long epic fantasy about a lost prince, rebellion, revenge, rivalry and a shocking betrayal to seize the throne.
The geography and era specified is entirely fictional, much in the tradition of Peter Jackson's Lord of the Rings, one film Bahubali clearly looks up to-- be it the maps, font, Minas Tirith-inspired architecture or conception of a brand new language 'Kiliki' spoken by a wild tribe of demonic barbarians along the lines of black speech used by the Uruk-hai.
Except the narrative is steeped in traditional Hindu mythos and legends. Bahubali skilfully combines crucial characters presumably inspired of Mahabharat and their distinct motivations to the Krishna-Kansa episode. It's like witnessing the vibrant illustrations of Amar Chitra Katha comics come to life on big screen while drawing on the aesthetics of Lord Of The Rings, 300 and Troy for its fairly decent VFX and kinetic battle sequences.
Oh, but the wartime moves of Rajamouli, who appears in a brief cameo as a spirits seller, formulating medieval weapons (spears, flails, morningstars) and custom-made catapults -- are entirely his invention.
Be it the snow-clad mountains, palatial sets or stark battleground infested with CGI-enhanced cavalry and infantry, Bahubali is magnificent to look at (take a bow, cinematography-K K Senthil Kumar, production design-Sabu Cyril).
A good fraction of the beginning wears an ethereal, aqueous appearance. In its opening scene, a woman emerges from a cave holding a torch in one hand and a baby in another. Standing at the foot of the towering waterfalls she stops to catch her breath. There's an arrow pinned to her back. Despite the looming danger in the dimly lit moment, the visual is much too breathtaking to not savour.
She swims past a furious torrent with one arm stretched above the water carrying the baby -- a basket would be too plain for Rajamouli -- and mysteriously points upstream before handing him over to a bunch of kind village folk. The boy isn't Lord Krishna but Shiva, a prince (Prabhas).
Oblivious of his blue-blooded roots, he's raised by common village folk but develops into a strapping superhuman boasting of Superman's strength, Tarzan's agility and Krishna's playful temperament who's also efficient in tattoo art and crafting on-the-spot bamboo bows.
Shiva seeks to get on top of the seriously tall waterfall, a desire that is doubly fuelled after a curious wooden mask falls from above. The wide gap acting as a hurdle in his path evoked memories of an imprisoned Batman's struggle in The Dark Knight Rises. As did the relief when he overcomes it.
Soon enough, Shiva bumps into a feisty warrior Avantika (Tamannaah), part of an underground resistance and learns about her group's mission to rescue the Queen (Anushka Shetty as Karan Arjun's Raakhee), a chained captive of the usurper (Rana Daggubatti) who's taken her husband's (Prabhas again) crown. A dedicated warrior slave (Sathyaraj, the Hindi movie audience may recall seeing him as Deepika Padukone's father in Chennai Express) modelled on Dronacharya, the tyrant king's ill-advising and indulgent father (Nasser) and his authoritative, gutsy wife (Ramya) are the other key players in the story.
How the saga unravels and comes together is the brilliance of Rajamouli's single-mindedly entertaining spectacle. Best part, nothing in it is arbitrary.
When an actor bares his sculpted torso in his movie, it's not for show, there's a greater purpose to it, you'll see. When he sets a chase against snowy mountains, it's not just a pretty backdrop, you'll discover. When a mammoth statue is about to be unveiled outside the palace grounds, it's not some gimmick but a catalyst leading to the story's big revelation.
Before I proceed to praise some more, I'd like to point out a few missteps. Like how Shiva's preoccupation with Avantika results in a rushed romance dumbing down the latter's steely aggression into a damsel-in-distress stereotype.
Clumsily penned lines implying, "You're a girl. I am a boy. I want to love you" only magnify the cringe-worthy tone of his affections. That and a needless item song in its second half are the few slipups Bahubali could do without. But I liked the rousing soundtrack by MM Keeravani, specially LOVED the Shiva stuti (prayer) Sivuni Ana.
Ideally I would have preferred to watch it in Telugu with subtitles since the dubbed dialogues aren't too impressive. The visuals are so enrapturing, they take over the experience. After a point, I observed their lip movement in such rapt attention, don't ask me how, but I deceived myself into believing it is Telugu I hear and Hindi I comprehend.
All the actors do a competent job but Daggubati's suave menace, Prabhas's charismatic energy, Sathyaraj's stony-faced enigma and Ramya's seasoned spunk stand out. A lot has transpired in The Beginning itself but how these characters will emerge when the story finally wraps up is thrilling to look forward to.
Almost three hours go like a breeze in the company of Bahubali's eclectic protagonists, where every single one makes an 'entry' designed for wolf-whistles. Heck, I could say that about some of the exits too. Especially one involving a decapitated figure.
Bahubali-The Beginning isn't quite finished; though it concludes on a delightfully stupefying note. The rest of the epic fantasy is scheduled for release sometime in 2016. Films that end on a cliffhanger note are usually frustrating. Bahubali isn't.
The first part of the epic leaves behind dollops of rip-roaring entertainment to relish till it's back to finish what it started in perhaps even more jaw-dropping manner. Rajamouli incites such confidence.
Rediff Rating: