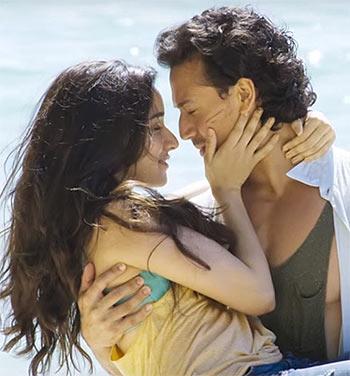 The music of 2016's Baaghi may be nowhere close to the blockbuster soundtrack that had been delivered by Anand-Milind for Salman Khan's namesake film, feels Aelina Kapoor.
Twenty-six years ago, Salman Khan's Baaghi boasted of melodious chartbusters like Kaisa Lagta Hai, Chandni Raat Hai, Har Kasam Se Badi Hai and Ek Chanchal Shokh Haseena.
Though the makers of Tiger Shroff's Baaghi have maintained that their film has nothing to do with the 1990 hit, one wonders if composers Meet Bros, Amaal Mallik, Ankit Tiwari and Manj Musik and lyricists Kumaar, Sanjeev Chaturvedi and Raftaar put together songs on the same lines.
While it is understandable that the 1990s melodies had their own charm, one has to give it to Amaal Malik for composing Sab Tera that has a quintessential running-around-the-trees feel to it.
Brother Armaan Malik does well as a singer here, and Shraddha Kapoor scores good marks for her singing as well.
In 2004, Shahid Kapoor and Soha Ali Khan had grooved to the tune of Gustakh Dil in Dil Maange More. The song, which was based on Shammi Kapoor style of music and dance, was a reasonable hit.
Circa 2016 and Tiger Shroff gets a Shammi Kapoor track to his name, courtesy Manj Musik and lyricist Raftaar (with director Sabbir Khan chipping in as well). An entertaining number, Lets Talk About Love scores well in staying pretty fast paced right through its duration.
Moreover, Raftaar and Neha Kakkar keep their energy levels high for this song.
Monali Thakur's Cham Cham has an inherent sweetness element to it that wins your heart. Meet Bros, who are usually associated with club tracks, take a desi route with this.
Meanwhile, one wonders if the Aashiqui genre of songs (ever since the Aditya Roy Kapoor and Shraddha Kapoor starrer became a blockbuster) would continue to be in vogue. If Ankit Tiwari's Agar Tu Hota is any indication, this is pretty much on the cards as the 'dard-e-judaai' mode continues in 2016 as well.
Last to arrive is Meet Bros' Girl I Need You. Though Arijit Singh is associated with songs that are truly desi in appeal with hardcore Bollywood feel to them, he springs a surprise with this Hinglish number where he explores the Justin Bieber brand of music.
The music of 2016's Baaghi is nowhere close to the blockbuster soundtrack that had been delivered by Anand-Milind for Salman Khan's namesake film. But in the times when an all around chartbuster album is a distant dream, Baaghi manages to hold your attention.
Rediff Rating: