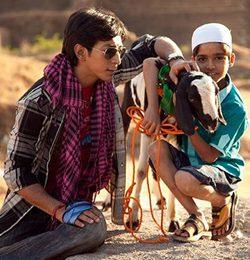 Yeh Hai Bakrapur starts off on a promising note but loses steam soon after, says Paloma Sharma.

As soon as the film begins, it isn't too hard to gather that Yeh Hai Bakrapur comes from someone who has dabbled in documentaries.

Yeh Hai Bakrapur is the tale of a young boy named Zulfie and his beloved goat, Shah Rukh, who get caught up in the fickle world of the adults around them -- a world of money, power and politics divided along communal lines.

The film looks like an adaptation of one of Hindi novelist Premchand's stories that one used to have to read during class on lazy summer afternoons -- I specify the time and the weather conditions because that's exactly how you feel once the bond between Zulfie and Shah Rukh has been established in the first five minutes.

Yeh Hai Bakrapur gets off to an interesting start but plunges into a lull soon after. It is hard to believe that an issue so volatile could be woven into such a yawn-inducing story.

The screenplay seems to be that of a short film which was expanded to a 97-minute-long
feature.
Nevertheless,
Yeh Hai Bakrapur
boasts of dedicated production design that pays careful attention to even the minutest detail.
Everything is in place -- from the
chai ki dukaan
to the last dusty rock and the beady-eyed rooster clucking his way around it.
The locations are perfectly chosen.
The lack of any attempt to add even a slightest bit of glamour to rural India comes as a huge relief.
Yeh Hai Bakrapur
finds a gem of a cinematographer in Abinanadan Ramanujam.
Ramanujam performs no fancy camera tricks but, while keeping with the simplicity of the film, finds a way to add to the black humour subtly, with much help from the witty dialogue.
Despite all of this and some praiseworthy performances by the entire cast --
Yeh Hai Bakrapur
fails to live up to its early promise due to lacklustre direction.
The film is also shabbily edited with abruptly cut scenes in several places.
Rediff Rating: