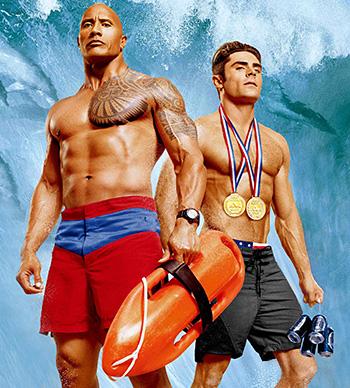 Baywatch feels like Priyanka Chopra's presence influenced the producers to make a Bollywood movie in Hollywood, says A Ganesh Nadar.
Baywatch is a sexy comedy. One that is rather in-your-face.
All the ladies are uniformly comely. The hero is a minor mountain. His sidekick is a ripped Olympic gold medallist. And they all make a very obvious attempt to make you laugh, and sometimes even succeed.
The story line is like a Hindi movie -- like Priyanka Chopra had such a profound effect on them that they made a Bollywood movie in Hollywood.
The plot revolves around a team of lifeguards who go beyond the call of duty to keep their turf safe.
We learn just how good they are at saving people from drowning, especially in a rescue from a burning ship, which is filmed very well.
Then there is the villain. Our very own Priyanka Chopra.
Chopra's Victoria Leeds helms a drug ring and a real estate mafia, but has only three people to implement her lofty plans. Even Tamil movie villains have more henchmen.
Her idea of villainy is laughing in a sinister tone -- or at least that is what she thinks. And her henchmen's attempts at humour, acting, or even looking tough fail miserably.
In one particularly poorly written scene, Leeds asks her African-American henchman: 'Are you trying to BLACK-dramatic pause-mail me?'
Before you can say racist, she is out of the door and the poor man mumbles, 'I really need closure.'
Overall, Baywatch is racy, it's raunchy, it's fast moving, and oftentimes plain silly -- like when the hero Mitch Buchannon (Dwayne Johnson) disguises himself as a cook and the Olympian Matt Brody (Zac Efron) disguises himself as a girl.
Said hero doesn't seem to realise that you cannot hide anything his size. But it's meant to be funny, so we will let it pass.
Jon Bass, who plays the group clown Ronnie Greenbaum, brings in some genuinely delightful moments, especially in his nervous interactions with his heartthrob.
Baywatch is clearly meant only for people who want to lose themselves in a fantasy land of some laughs and many perfect beach bodies for two hours.
Rediff Rating: