'Even though the film focuses on caste discriminations in rural India, it is first of all a riveting police procedural, and one of the best made in India,' says Aseem Chhabra.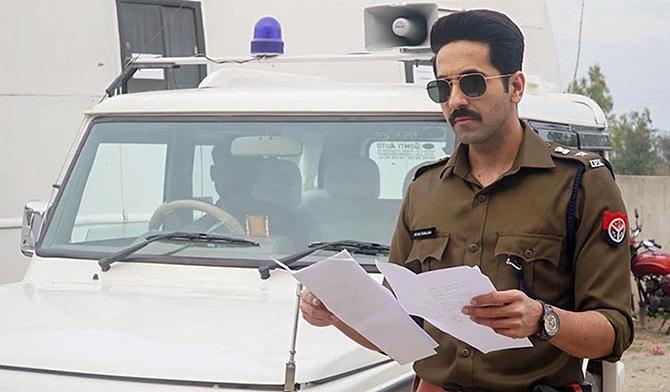 Towards the beginning of Anubhav Sinha's exceptionally well-made film Article 15, the film's protagonist, a young IPS officer Ayan Ranjan (Ayushmann Khurrana) stands outside his police station located in Lalgaon, Uttar Pradesh.
A graduate of Delhi University's St Stephen's College, Ranjan has spent some time in Europe before joining the civil services and he even comments that this maybe a punishment posting.
Standing with the staff an exasperated Ranjan asks them their castes. One says he is a Thakur, while others state they are Kayastha, Rajput and even a Chamar.
'What the f*** is going around here?' Ranjan, who is identified as a Brahmin, yells out as his confused staff stares at him. It may appear funny but there is a darker truth here. The identity of each character in the film is first based on her or his caste. Only then they can be identified as a police officer, a doctor, a politician, a farm worker or an employee at a tannery.
They eat separately, and do not touch each other's food, plates and glasses. And they know their status, their place in the village, their aukat.
That is what Sinha and his co-writer Gaurav Solanki want us to comprehend. Seventy-two years after India's Independence and with all the policies various governments have tried to enforce to move India out of the shackles of the caste system, not much has changed.
Article 15 -- the Article in the Constitution which states no person will be discriminated based on his or her religion, caste, race, sex or place of birth, is inspired by actual events -- the 2014 deathsby hanging of two girls in the Badaun district of UP (initial post-mortem suggested the girls were gang raped, but CBI investigation denied the report); and the 2016 flogging of a few Dalits in Una, Gujarat.
But Sinha and Solanki take the script beyond the headlines to draw up a complex screenplay (it will soon be published by Rajkamal Prakashan), layered with subplots that all emphasise the intricacies of the caste system and how that defines the world of Lalgaon.
Article 15 is an angry film that shocks the audience, even when we think we know everything that is being presented to us.
We are no different from Ranjan. We are somewhat aware of the realities of India and yet we look aside, get back into out comfort zone. But Article 15 pulls us out of that comfort zone.
The use of Vande Matram right before the intermission with the camera focused on Article 15 of the Constitution is a wake up call to the audience.
But even though the film focuses on caste discriminations in rural India, it is first of all a riveting police procedural, and one of the best made in India.
The film does not shy from displaying its sources of inspiration -- from the gripping HBO series True Detective to Alan Parker's Oscar winner Mississippi Burning. If fact, thematically Article 15 borrows more from Mississippi Burning -- two FBI agents in America's south exploring the disappearance of civil rights workers.
And like in Parker's film. Sinha's Ranjan is an outsider, trying to comprehend Lalgaon, its people, comfortably set in their old ways. He is warned by his senior most staff person Brahmdutt Singh (Manoj Pahwa, in one of the finest supporting performances in Indian cinema in recent years) not to rock the boat. 'Aap se nivedan hai Sir, santulan mat bigaadiye (I request you Sir, please don't disrupt the balance)', Singh -- a complex character painted with several gray shades -- says to Ranjan, with utmost sincerity.
Perhaps Ranjan is naïve like the protagonist in Amit Masulkar's Newton (2017). He deeply believes in the fairness of the Constitution and he is committed to do the right thing for the girls who have been wronged.
Ranjan is an activist, a savior and at least initially an idealist (in the first scene we see him with a copy of Jawaharlal Nehru's Discovery of India). Some have argued that Dalits do not need Brahmin saviours, but Article 15 is a film and Sinha uses a big name star like Khurrana to highlight this huge problem that exists in our society.
Ranjan cannot solve all the ills of India's caste system. But his actions will make people think. Article 15 is story that will live with its audience. It is not something you can leave behind once you head out of your multiplex theater.
The film is packed with some of the finest performances in a Hindi film. Khurrana is a brave actor who again and again uses his stardom to push the envelope. He is a brilliant in the film -- charming, caring and yet angry. But he is also a generous actor and he allows all of his co-actors to shine.
The film has a long list of supporting actors, but besides Pahwa, one must mention Sayani Gupta (who even sings in the film), Mohammed Zeeshan Ayub (in a heart wrenching performance of a Dalit activist), Kumud Mishra, Nassar and Isha Talwar (playing Ranjan's wife Aditi, who provides the rational counter point to his emotional confusion).
The scene where Pahwa and Mishra argue on the road should be made a case study for every acting student.
The film is beautifully shot by Ewan Mulligan -- not just the morning scenes with fog emerging from behind the trees, but some very carefully plotted moments where the camera hovers around various characters picking up the tension that is building.
Sharp editing, the background score and sound design give Article 15 that edge-of-a-seat quality often lacking in Hindi films.
There is a moment as the film if about to end where Ranjan is on the phone with Aditi 'When I used to live outside India I would sell the Taj Mahal and Khajuraho as if they were my father's property,' he says, adding he was proud of India.
'Are you not proud of India anymore?' Aditi asks him. 'I am, but things are messed up. I want to unmess them,' Ranjan says.
'Is that even a word?' Aditi asks as a joke.
Anubhav Sinha's film is one step forward to unmess what is wrong with India.
Rediff Rating: