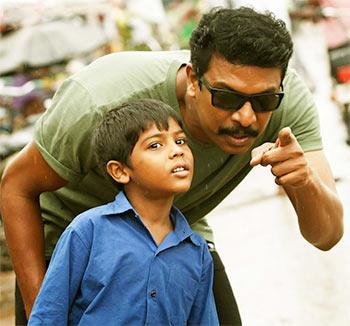 Appa has plenty of heartwarming moments and some great performances, feels S Saraswathi.
After proving his acting skills in a variety of roles, National award-winning actor Samuthirani has gone back to directing.
His previous venture was the superhit Jayam Ravi-starrer Nimirndhu Nil in 2014, which dealt with corruption.
The director, in his latest offering Appa, targets the deteriorating education system in the country.
He focuses on the pressures of society and the tremendous financial and emotional burden of parents as they struggle to enroll their children in popular schools.
Children's dreams, aspirations and identities are often sacrificed in the mad race to obtain marks and secure a state rank.
Samuthirakani has written, directed, produced the film, and he also plays the lead role along with noted actor Thambi Ramaiah. The duo had previously worked together in the critically acclaimed Saattai in 2012, which also dealt with the education system.
Appa revolves around the life of three boys and the bond they share with their father.
The director has attempted to show the different perspectives of parents on raising their children and how they influence their lives.
There's Thambi Ramaiah, who maps out his son's future the day he learns his wife is pregnant. He has lofty plans for his son, christening him Dr Chakravarthy on the very day he is born.
The unambitious Namo Narayana, on the other hand, advises his son to stay away from the limelight.
And then, there is Samuthirakani, who patiently nurtures his son, guiding and helping him understand his potential without any pressure.
The film portrays the life of these three boys from conception to their teenage years and deals with everything from enrolling at a play school, to pressures of studies, projects and teenage infatuation.
While director Samuthirakani deserves full credit for dealing with a relevant subject without making any commercial compromises, the narrative, unfortunately, gets too melodramatic.
Every situation is too stark appearing either black or white -- the perfect father versus the evil manipulators.
The narrative just moves from one issue to another depicting the consequences of our choices.
Nevertheless, the film has plenty of heartwarming moments and some great performances. Both Samuthirakani and Thambi Ramaiah are brilliant, and the spontaneity of the children adds some light moments to the narrative.
Music by Ilaiyaraaja is unremarkable, but cameraman Richard M Nathan perfectly captures the beauty of the small town.
Irrespective of the flaws, Appa is a thought-provoking portrayal of where our society is heading with its craze for successful (but not happy) life.
Rediff Rating: