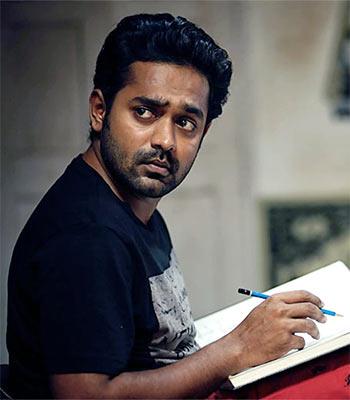 Paresh C Palicha recommends Anuraga Karikkinvellam.
"Love always leaves something good behind," a dad tells his son. "Soon you will find another person worth falling in love with. Just take good care of her when you find her."
Such words of wisdom to lead a happy life is a rarity in our films.
This is a scene from debutant director Khalid Rahman's Anuraga Karikkinvellam.
We have Raghu (Biju Menon), an ASI in police, a hot headed and introverted person who is full of himself. He leads an upper middle class life with his wife (Asha Sharath) and two children.
His wife seems to be from the bygone era, doing her household chores silently with clockwork precision.
His son Abhilash (Asif Ali) is qualified Civil Engineer but does not find his work motivating enough. He has also lost interest in his girlfriend Elizabeth (Rejisha Vijayan) but she refuses to leave him in peace. So he spends his time loitering around with his friends.
Things take a turn for the better when Raghu spots his old flame Anuradha from a distance, and re-establishing contact with her becomes the mission of his life.
From here, the lives of Raghu and Abhilash get entangled in a weird sort of way.
Raghu tries to become a better person, paying more attention to his wife. On the other hand, Abhi begins to take interest in his work. The fact that Elizabeth is responsible for this transformation makes Abhi think about their days together and starts missing her.
The writing by newcomer Naveen Bhaskar averts clichés though the situations may look typical. It makes the characters look real, and their performance looks natural.
The humour does not feel imposed because the circumstances that characters get into induce the humour.
Biju Menon looks refreshed doing something serious after a long time.
Asif Ali utilises this opportunity to remind us that he was also waiting in the wings to be recognised as a promising youngster.
Asha Sharath, as a subdued housewife, is perfectly cast.
Rejisha Vijayan, as the nagging and weeping girlfriend, chews whatever meat her character provides.
The comic parts are handled efficiently by Sreenath Bhasi and Soubin Shahir.
Anuraga Karikkinvellam introduces a new writer and director to Malayalam cinema, and makes it an enjoyable outing for the viewer.
Rediff Rating: