Amavas is a bore! notes S Ramesh.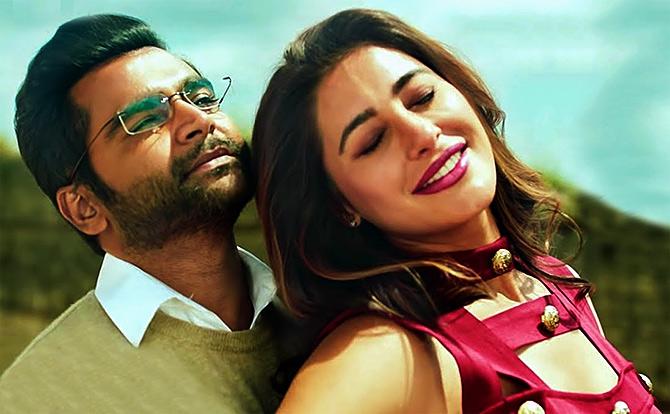 Kamal Amrohi's Mahal was one of the earliest Hindi films presented in horror style.
The horror genre made its mark in Bollywood with low budget films produced by the Ramsay Brothers. The Ramsay movies focused on masked monsters, old mansions, sex and haunting songs sung by wandering spirits.
In recent decades, the horror genre has risen to scarier levels. But some horror movies still follow the old spooky-tired format. The latest film in this latter category is Amavas, which claims to have never seen before scary VFX.
Amavas is about a rich businessman Karan (Sachin Joshi) and his lover Ahana (Nargis Fakhri). Karan wants to propose to Ahana in Paris, but Ahana wants the ritual to take place in Karan's summer mansion in remote England.
The mansion's dark secrets give Karan and Ahana sleepless nights filled with supernatural happenings.
The first half has nothing to offer beyond the leads singing, sleeping, having nightmares. There are loads of unwanted scenes which lead nowhere.
The second half introduces you to Karan's silly past. The events fail to relate to each other and don't justify the happenings in the first half.
There is not one scary scene or thriller moment in the movie!
The finale is illogical and unintentionally funny.
The writing is tacky. The direction outdated.
There are plenty of songs which are presented almost back to back. These songs break the continuity of the boredom factor.
And what about the never seen before VFX? The special effects are worse than a B-grade television serial.
Sachin Joshi and Nargis Fakhri compete with each other to give the most wooden expressions. Sachin wins the contest by his lethargic body gestures.
Every year Sachin comes up with one film as an actor and happily provides income to the technicians associated with his movies.
Amavas is a boring, illogical, film. A snooze fest.
Rediff Rating: