The film's first half is imminently watchable but the second half lets it down, says Prasanna D Zore.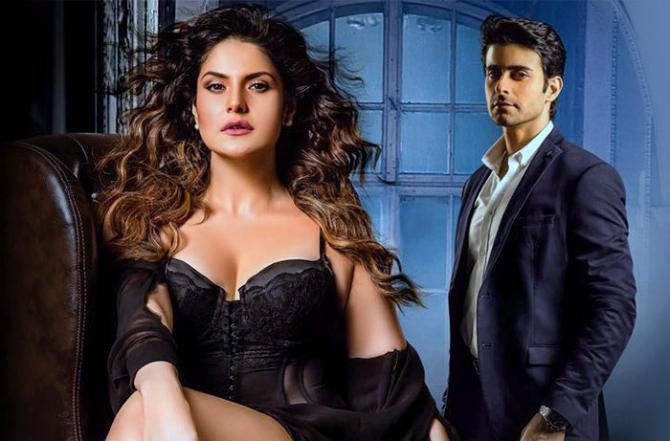 Aksar 2 is a thriller that goes haywire once you have settled down with your popcorn and cold drink post-intermission, expecting more tense moments that director Anant Mahadevan so beautifully serves up in the first half.
But credit must be given Mahadevan and his cast, especially Gautam Rode and Zareen Khan, for keeping you in your seat during Aksar 2's second half, which is full of confusing twists and turns. As a result, the film loses both pace and your attention.
Sadly, the filmmaker relies excessively on steamy scenes and lip-locks.
At times, you wonder if there are more lip locks per ten minutes than soothing, emerald green glimpses of the Indian Ocean that makes you go wow.
Aksar 2 is about an ageing millionaire, Dolly Khambatta (Lillete Dubey), a lecherous investment banker (Gautam Rode), a seductive girlfriend-turned-wife (Zareen Khan), a scheming servant (Rohit Madaan), an above-suspicion lawyer (S Sreesanth! Yes, you read that right) who all plot at different times to get into Khambatta's will.
As the film unfolds, you see that Sheena Roy (Khan) is madly in love with Khambatta's estranged nephew, Ricky (Abhinav Shukla), and both have their eye on Khambatta's millions.
To get inside the her home, they need help from investment banker Patrick Sharma (Rode), which is easy as pretty girls are his weakness.
But Roy and her boyfriend are hoodwinked by Bachchan Singh (a towering, menacing Madaan), whom Khambatta considers her most loyal servant. He, however, wants to blackmail Sharma, who has access to Khambatta's will.
All of this unfolds in the film's first half and you feel you are in a James Hadley Chase novel.
Rode, as the lecherous, vulnerable investment banker, confidently shifts gears between his lechery, greed and honesty towards the old woman.
Though Madaan, as the scheming, menacing Bachchan Singh, does not get much screen presence in the first half, he impresses with his acting skills.
Khan, as the seductress and Shukla as her boyfriend/husband are, at times, the weak link in this supposed crime thriller.
The never-ending twists and turns in the second half are as boring as the ones you encounter on a steep mountain road; both make you want to throw up.
Till the intermission, director Mahadevan ticks all the right boxes as his characters play games with each other and expose their darker sides and vulnerabilities.
He needs to thank cinematographer Maneesh Chandra Bhatt's brilliant work, which takes your attention away from the corny dialogues.
Aksar 2 is a film that gets you primed in the first half but is a sad squib in the second.
Rediff Rating: