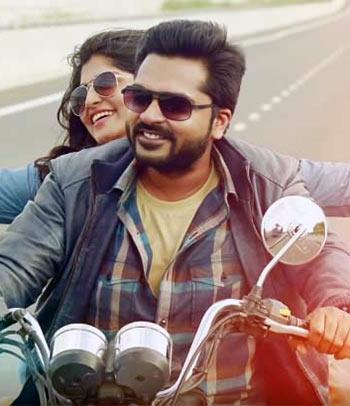 Director Gautham Menon's Achcham Yenbadhu Madamaiyada may not be what you expect but watch it for the haunting music, writes S Saraswathi.
After the spectacular success of Vinnaithaandi Varuvaayaa, the supehit combination of director Gautham Menon, actor Silambarasan and composer AR Rahman return with yet another romantic film titled Achcham Yenbadhu Madamaiyada. This time, the film is not just high on romance; it's steeped in violence and bloodshed as well.
The film has been in the news ever since the release of the beautiful Thalli Pogathey number that became a chartbuster overnight.
Romance, violence and cops have been a regular feature in Gautham Menon's films but subtly portrayed with more than a touch a reality. But in Achcham Yenbadhu Madamaiyada, the director pulls no punches turning the simple, touching love story into a commercial potboiler.
The film is neatly divided into two halves -- one filled with romance, incredible music and soul-stirring lyrics. The second half is an endless struggle echoing with gun shots.
The pace is slow in the first half but thoroughly enjoyable as a happy-go-lucky middle class MBA graduate -- played by Simbu -- falls in love with his sister's pretty friend Leela (Manjima). This is sensitively portrayed with Leela staying at his house, completing an internship programme along with his sister.
Even as their friendship deepens, they have to part ways.
Leela completes her course and has to move back to her hometown in Maharashtra while Simbu (whose name is withheld until the last scene), decides to take a road trip on his new bike before plunging into the monotony of a regular job.
But fate has other plans for the couple.
At the last minute, Leela decides to accompany Simbu on his journey.
What starts off as an innocent and beautiful journey with some spectacular sights skillfully captured by cinematographer Dan Macarthur, soon turns into a horrific nightmare.
The film ends on surprisingly lame climax, especially for a Gautham Menon film.
The role seems to be tailor made for the talented Simbu, as he effortlessly transforms from the fun-loving friend and sensitive lover to lone crusader.
Newcomer Manjima is equally brilliant, drawing you into her life with her sparkling eyes, pretty smile and smooth performance.
Director Gautham Menon's Achcham Yenbadhu Madamaiyada may not be what you expect but watch it for the haunting music, the incredible sights along India's spectacular coastline and the earnestness of its lead actors.
Rediff Rating: