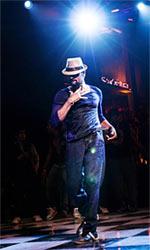 ABCD (Any Body Can Dance) is a must watch not only for dance lovers but also for those who like good cinema, writes Prasanna D Zore.

To put it simply, ABCD or Any Body Can Dance, written and directed by choreographer Remo D'Souza is entertainment, entertainment and entertainment.
ABCD tugs at your emotional cords all the way as Prabhu Deva (Vishnu Sir) tries to convert a bunch of street ruffians into champions.
While you may have seen the same plot in Lagaan and Chak De India!, the canvas here has changed from the playing field to a dancing arena, with the protagonist endeavouring to polish rough cut dancing diamonds into winners by imbibing in them values like brotherhood, sportsperson-like spirit and loyalty.
Technically and production-wise, ABCD, howsoever the title may sound silly, punches you hard. Niftily edited dance sequences, a chase that is a mix of dancing and eye-popping jumps, make ABCD the Dabangg of dancing. The dance numbers are brilliantly executed and the thrill quotient is highly enhanced as you watch the movie in three dimensions.
While the film belongs to Prabhu Deva as a self-respecting dance teacher who parts ways with his manipulative friend Jehangir (Kay Kay Menon) for the love of dancing, it belongs as much to D, Rocky, Chandu, Ria, Biscuit among a score of other dancers with whom the nation will identify easily.
One wonders what took Indian filmmakers so long to risk their money on a film like ABCD. Perhaps, the boom and craze with which young Indians follow dancing shows on several TV channels must have made the producers and financiers believe that they had a winner in their hands, and hence the timing of ABCD. But that is beside the point.
The only fault one could find with the film is a contrived twist in the tale that leads to Chandu's sudden death. But the defection of one of the team members to a rival team sounds probable and real.
In about 143 minutes, ABCD tries to catch the emotions, aspirations, rebellions and values the contemporary Indian youth so cherishes.
Of the cast Prabhu Deva with his Mohanlal-like Hindi and Kay Kay as a manipulative owner of a dance company, play their bit with honesty.
Ganesh Acharya (Gopi) too shines in his role as a friend who helps Vishnu Sir build a brilliant dance team.
But all said and done the real heroines and heroes of ABCD are the dancers that make you cry, laugh, and dance with them.
DON'T MISS: The grand finale of the film and the number that follows in which Prabhu Deva, Ganesh Acharya and Remo shake a mean leg as credits scroll down in the end.
Rediff Rating:

Two requests to the producers
1. Why should the audience fork out Rs 20 as rent for the 3D glasses? If you have bet your money on an unusual film like ABCD why not make those 3D glasses free and let more Indians watch the thrill of watching the Dabangg of dancing in 3D. You can always take the deposit which could be returned to the patrons once the movies is over.
2. Help make this film tax-free. The purpose again is to help the film reach a wider audience.