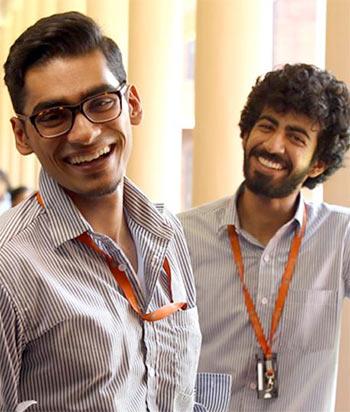 It is the charm and the freshness of the young cast that makes Aanandam work, says Paresh C Palicha.
Ganesh Raj's Aanandam tells the story of a bunch of first year Engineering students, who are excited to go on their first Industrial Visit or IV, which combined learning and excursion.
The director presents the story of seven students. Among the boys, one is silent and brooding, another is an introvert unable to express his feelings even to the people close to him, the third pretends to be a rock musician but loves to listen to Yesudas, and then, there is the joker of the pack.
Among the girls, one is so free-spirited that any boy may fall in love with her, another keeps her boyfriend under her thumb and the third is a silent type, happy with her drawing book.
The students are going to Hampi and Goa in a bus for the IV. The story unfolds in the travel, which has stopovers.
The think tank behind this film purposefully keeps the canvas or the scope of the premise limited to the travel that is supposed to foster friendships and romantic relationships.
In between this film becomes a promotional exercise for the historic Hampi, where the characters indulge in a game of Treasure Hunt circumventing the whole place and the significance of every location is woven into the dialogues.
Camerawork by Anend C Chandran showing the expanse of the place using a Helicam adds to its mystique.
The primary cast consists of newcomers and does a competent job. It is the charm and the freshness of these youngsters that make the film work for us, especially Thomas who plays Akshay, the introvert, and Siddhi, playing Diya the chirpy girl.
Aanandam definitely is a happy and fun-filled journey.
Rediff Rating: