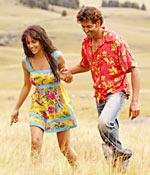 Kites received so many mixed reviews that we decided to ask you, our dear readers, to give us your take on the Hrithik Roshan-Barbara Mori starrer.
After sifting through many entries, we decided to go with this unique 'review' of the movie sent in by reader Prakash Gowda from Vadodara, Gujarat. Here's his hilarious take. Enjoy!
Kites: Recipe to make Indian-Mexican Bhelpuri with Salsa Sauce
Preparation time: 2 years
Cooking time: 2 hours (which seem equivalent to the duration of preparation time)
Serving: 400 + (depending upon the seating capacity of multiplex)
Chef: Anurag Basu
 
Ingredients:
1 teaspoon Hrithik Roshan
1 teaspoon Barbara Mori
¼ teaspoon Anand Tiwari oil
1 teaspoon Nick Brown Red Chilli Powder
1 teaspoon Kabir Bedi corn flour
1 teaspoon Kangna Ranaut
Salt to waste.
 
For Salsa dip and tamarind chutney:
5 cups of Rakesh Roshan tunes
5 teaspoons of Nasir Faraaz and Asif Ali Beg lyrics, Ayananka Bose cinematography.
Method:
 
Heat Hrithik in a fry pan of dance floor. Add salt of Kangna Ranaut. Once brown from sunburn from Mexican desert, keep Hrithik aside to cool in flashbacks, while a cellphone is charging (in the bargain, you too get ample of time to pick up your cellphone and play games, send SMSes to your friends and warning them of the Kites experience).
Well, where were we? Yeah, now pour some cold water over Hrithik to wash off Kangna salt. Now add piping hot Barbara Mori to it and leave them to simmer. Add the friendly Anand Tiwari oil and let it burn till it disappears.
 
Once Hrithik and Barbara start steaming, as you can already predict, add Nick Brown chilli powder. Leave Hrithik and Barbara to get brown with sunburn again in the Mexican desert. Keep pouring Salsa dip and Tamarind chutney to prevent them from burning too much. Sprinkle some Kabir Bedi corn flour for thick consistency.
 
Whenever confused, just add Nick Brown chilli powder whenever Hrithik and Barbara begin to sizzle -- it's the chef's secret, you know. Once you're assured of the fact that the recipe is going nowhere, throw Barbara out of the window and Hrithik will follow.
Serve hot with the flame of marketing and if required, add some spice of gossip stating how great this recipe has been received worldwide.
 
You are now ready with Kites -- a sure-shot way of making money, after making people realize that they are one of the victims of being allured by foreign Barbaric Mori and desi Free-kick Roshan, and suffering the torture called Bites... oops! Kites. I am one of them, left with a sour aftertaste.
Read the alternate reviews here: Raja Sen | Matthew Schneeberger