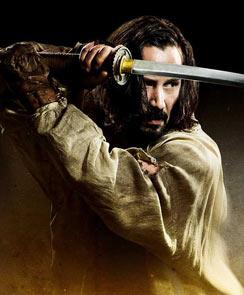 Don't bother with 47 Ronin if you've already seen the 2:31 minute trailer, the rest of the 116.69 minutes can be ignored, writes Paloma Sharma.

If 47 Ronin were your child's fourth grade art project, it would get an A+ right away for all the glittery sequences sprinkled across the paper.

But since 47 Ronin is a film, even Jan Roelfs' marvelously intricate production design cannot save the sinking ship.

Set in what looks like the Sengoku jidai, or the Warring States Period, 47 Ronin is based on Japan's national legend -- the true story of the Shi-jū-shichi-shi or 47 Master-less Samurai -- with first-time director Carl Rinsch adding myth and magic to the mix.

Kai (Keanu Reeves) is the half-breed illegitimate son of a Japanese peasant girl and a British sailor.

An orphan, Kai escapes the mysterious cult he was raised in and is taken in by Lord Asano (Min Tanaka). Even as Kai is treated as an outcast due to his unknown origins and mixed parentage, Lord Asano's daughter Mika (Ko Shibasaki) gets quite chummy with the lad.

The two group up with Mika turning into a lovely young lady and Kai simply turning 40.

Despite knowing Mika's feelings for him, Kai never makes his move out of respect for his master, Lord Asano, to whom Kai has pledged his undying loyalty and servitude.

But when the evil Lord Kira of the Northern Provinces, who bares an uncanny resemblance to Naraku from InuYasha, manipulates Lord Asano into committing sepuku (ritual suicide), Kai and Asano's now leaderless samurai must avenge their master's death and restore his honour.

As far as the imagery is concerned, 47 Ronin is definitely Imax worthy. But it is rather sad though that even such a dramatic tale lacked emotion when it translated on screen.

As a long-time Keanu Reeves fan (yes, we still haven't gone extinct), I was rather disappointed. Once a man with much
screen presence, Reeves has been reduced to a shadow with the look of a pet dog that was left out in the rain. And while you and I may wish Jack Traven from
Speed
back, it seems like the actor has lost something that he desperately needs to regain.
Meanwhile, it would have been much better if the film were in Japanese with English subtitles because watching the Japanese cast speak in a variety of accents just gets a little awkward after a while.
While the posters might feature Reeves and Shibasaki predominantly, it is the bad guys -- Lord Kira (Tadanobu Asano) and his co-plotter, the witch Mizuki (Rinko Kikuchi) -- who steal the show.
I wish the shape-shifting Mizuki, her twirling trail of silks and her tentacle-like hair had more screen time. Yet, if it is the image of Mizuki's gold and green kimono that stayed with me after the film, then not much need be stated.
47 Ronin
moves from highlands that remind you of the
Lord Of The Ring
series down to a Dutch-occupied Japanese island which could have easily been Tortuga out of
Pirates Of The Caribbean
, all to a mostly ignorable background score.
While the screenplay seems to have been worked out quite well by co-writers Chris Morgan and Hossein Amin, it is quite infuriating that Rinsch did not think to add more action or emotion -- or anything, actually -- to this visually enticing debacle.
You wait for something to happen throughout
47 Ronin.
The stage is set. You get that creeping feeling of déjà vu. Parts of the film remind you of
The Matrix, Constantine
and
Dungeons and Dragons
. You almost think you saw a glimpse of
Seven Samurai
and
The Last Samurai
while the frames flash by.
But your wait ends and delivers nothing but pain, frustration and heartbreak -- but mostly importantly, an empty wallet.
Don't bother with
47 Ronin
if you've already seen the 2:31 minute trailer, the rest of the 116.69 minutes can be ignored.
Rediff Rating: