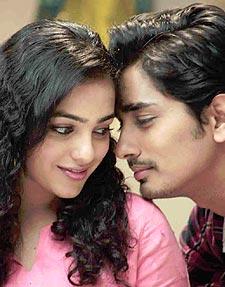 Pavithra Srinivasan feels that 180 is one of the most stylish films of the year, but the plot is extremely predictable.
Post YOUR reviews here!
Right from the beginning Sathyam Cinemas' and Aghal Films' 180 (or Nootrenbathu, as it's called in Tamil) is certainly among the most stylish films made this year. Not very surprising, as it's the debut movie of veteran ad-maker Jayendra of Real Images. The production values are brilliant, Balasubramaniem's camera-work is spotless, Sharreth's music is easy on the ears while V Selvakumar's artwork is all cool -- shapes, high-rise apartments and quaint Chennai homes.
Then you come down to the story, penned by writers Subha and Jayendra himself. And you wonder exactly how and where it goes, or if it's even going anywhere which ends up being even more of a suspense than the plot-twist itself.
Not that the beginning is quite so dismal, even if you're able to guess its direction within minutes: a somber Mano (Siddharth) rises from the waters of the Ganga in Varanasi (the droplets flowing off him most artistically), and watches various families perform the last rites of relatives. He's disturbed about his life, until a young boy apparently gives him direction (and incidentally, his name).
From then on, it's a happy-go-lucky journey for Mano, who aimlessly drives round in an auto until he reaches a home in T Nagar; makes friends with a garrulous paperboy, runs around the city doing odd jobs like ironing, selling sundal and thus attracting the attentions of a very pretty photojournalist Vidhya (Nithya Menen) who works at the newspaper, Bharatha Mithran.
Vidhya, perky and enthusiastic, promptly tracks the elusive Mano down and arrives at his home, asks various probing questions and then, promptly falls in love with him. Her attraction increases, as he never volunteers information about himself and sets up a fund for newspaper boys' education in a jiffy.
Naturally, you're given tantalising glimpses of Mano's life: he was, not too long ago, Ajay Kumar, a doctor with the Sunway Medical Centre, San Francisco, where he met the love of his life: Renuka Narayanan (Priya Anand). The two are instantly attracted and enjoy the NRI life, before getting married. In this, they have a solid friend, Sambasivam aka Sam (Sricharan). And then, things start to happen.
Siddharth is much the same he's been in many movies before this; playing the cheerful guy who has secrets up his sleeve is a cakewalk for him. He's one of those actors who can carry off the role of the urban male convincingly, and he follows the pattern.
Priya Anand is sweet, sympathetic, but doesn't quite manage to pull it off during the angst sections. Part of it is her attire: she actually wears towering heels and perfectly coordinated dresses during the most sorrowful moments!
Nithya Menen gives her excellent competition with her own sweet, unsullied looks. She actually manages to carry her viewers with her, despite the faltering Tamil accent.
Sricharan looks the part of the scruffy, concerned best friend and plays it convincingly. Mouli, Geetha et al do their parts well.
The biggest stumbling block, though, is the screenplay. Surprisingly, Subha's dialogues don't really gel, while the story, after a promising beginning, meanders all over the place. The romantic situations of the first half, meant to be heart-warming, turn cloyingly sweet but the second half is actually disappointing. The big twist leaves you gaping with surprise, largely because it's completely predictable.
180 is a visual feast, no doubt about it. Sadly it falls prey to clichés and lagging pace.
Rediff Rating: