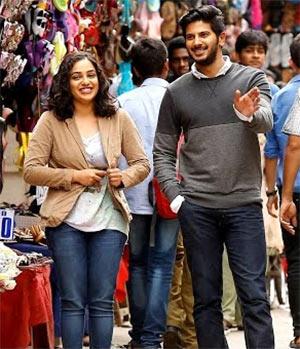 100 Days of Love leaves a lot to be desired as a serious love story, says Paresh C Palicha.
100 Days of Love by first time director Jenuse Mohamed (son of director Kamal) is meant to be a spoof on conventional love stories.
The lead pair of Dulquer Salmaan and Nithya Menon is named after veteran actors of yesteryear, Balan K Nair and Sheela.
There are other instances of love stories of the past being joked about, including the climax at the railway station.
This love story has a conventional enough beginning where the hero falls in love with the heroine just by seeing her smile for a few seconds.
He then begins his search for her with an antique camera and an undeveloped film roll.
He takes the help of his gaming-crazy friend Ummer (Shekhar Menon) who models the search on gaming techniques.
As the story moves forward and the hero and heroine meet, we see glimpses of the Sibi Malayil directed Ishtam (2001) and the Gautham Menon directed Tamil movie Minnale (2001).
The hero Balan is a principled journalist who is more interested in cartooning than writing. Aju Varghese is Balan's comic arch rival from his student's days.
Director V K Prakash plays a snobbish editor who thinks that Balan's cartooning aspirations are fit only for the dustbin.
Jenuse Mohamed tries to make some profound statements here and there my giving Sheela lines like 'the days of puppy love stories are over as the youngsters today have got the freedom to select their life partner' or 'they have become responsible and try to choose someone who can provide stability as a spouse,' etc.
Vineeth and Praveena play love birds of a bygone era as Sheela's parents celebrating their silver wedding jubilee.
Dulquer Salmaan is made to redo the things he has done in films like Usthad Hotel and ABCD.
Nithya Menon looks more sure footed in handling her character but her voice is oddly dubbed.
We may have found a new sidekick for our heroes in Shekhar Menon who mouths funny one-liners as Jagathy Sreekumar and Jagadeesh did in the not-so-distant past.
100 Days of Love leaves a lot to be desired as a serious love story.
Rediff Rating: