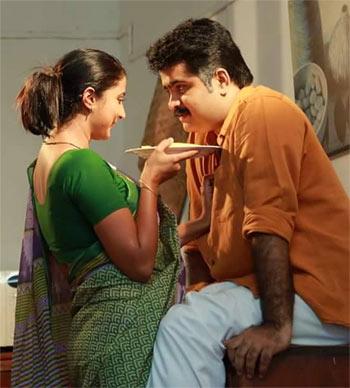 The screenplay moves back and forth in a confusing manner, unnecessarily lengthening the run time of the film, says Paresh Palicha.
The news that Meera Jasmine was making a comeback of sorts into Malayalam cinema was exciting. Add to that the fact that she was doing so under the directorial baton of the stylish editor, Don Max.
So, you settle down to see 10 Kalpanakal, anticipating a tight thriller where Meera dons the garb of a police officer for the first time in her career.
Shaziya Akbar (Meera Jasmine), a former police officer, is invited to talk to criminology students and narrate an inspiring incident from her career as a sleuth.
She begins by applying for anticipatory bail from the students, saying that she is not a good storyteller, and starts to talk about a case that had given her sleepless nights and was nothing short of a nightmare while it was happening.
It involved the gruesome murders of young ladies; she was the cop-in-charge of finding the killer.
The pattern of the killings indicated a psychopath was on the loose. They zero in on Victor (Prashant Narayanan), a smooth talker with a menacing grin.
The investigating officer connects the dots mentally but surprisingly does not get any physical evidence that will help her lock up the cruel criminal.
In between all this, Davis George (Anoop Menon), a God fearing and pious man who leads his life by the Holy Book, enters the picture.
He is a forest officer whose friend's young daughter, Angel, was killed in a similar manner many years back -- a case that is still unsolved. He begins to unofficially help Shaziya.
Like every other crime thriller, there are at least half a dozen suspects including Davis and his young son who was in love with Angel. There is another rogue, Vakkachan (Joju George), who uses an unlicensed gun for hunting. He and Davis are at loggerheads from the beginning.
The screenplay moves back and forth in a confusing manner, unnecessarily lengthening the running time of the film.
Besides, there are technical glitches galore. For example there is no mention of finger prints or any other forensic evidence. Similarly, there is no effort to find the tools that are used as the killing weapons.
The police are shown arresting the criminals based on instinct and the courts let them off due to lack of solid evidence.
It is only in the end that we realise this movie was inspired by the climax of the Argentinian film, The Secret In Their Eyes (2009), which had won an Oscar for the best film in a foreign language. 10 Kalpanakal's only aim seems to be to reach a similar climax.
It goes without saying that Meera Jasmine has got a raw deal in this film; she has to just walk around stylishly so that the camera can pan.
10 Kalpanakal ends up as a shabbily made thriller.
Rediff Rating: