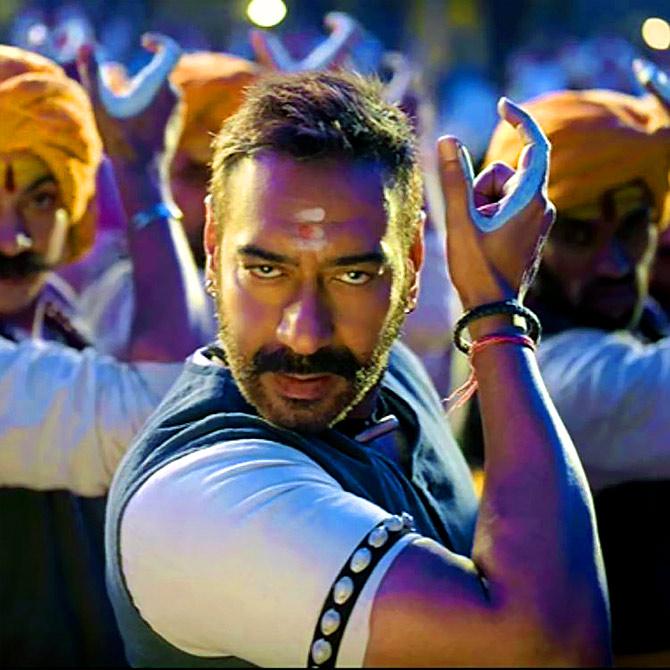 We asked readers to send in their reviews of Tanhaji: The Unsung Hero, and we got quite a few!
Here's a look at what reader Sumeet Nadkarni thought about the film:
Our school history textbooks have reduced most of our valiant heroes to a footnote, whether it is Netaji (Bose) or Tanhaji.
Hence, whatever I knew about the great Maratha warrior Tanhaji Malusare was from the Amar Chitra Katha comics I grew up on.
Tanhaji was a trusted lieutenant of Chatrapati Shivaji Maharaj, who won the coveted Kondhana fort from Aurangzeb's clutches by using his pet ghorpad (monitor lizard) to scale the seemingly impregnable fort and sacrificed his life to conquer it.
The film delves deeper in to this incident and highlights the Maratha valour, which we saw recently in Ashutosh Gowariker's sincere take on Panipat, and of course, Bal Shivaji (1982) which I saw and admired as a school kid.
After all, the Maratha period is a slice of history more potent and pertinent today than Emperor Jehangir's fictional love story in Mughal E Azam (1960) or the highly distorted Jodhaa Akbar (2008) -- two films lapped up by the paying audience.
Tanhaji commences with the brave warrior's origins, goes on to explore his brotherly bonding with Chatrapati Shivaji and proceeds to narrate the fate of the Kondhana fort, guarded by Udaybhan Singh for Aurangzeb.
The strategic fort is the key to South India dominance and hence, needs to be recaptured and Tanhaji offers to help Shivaji Maharaj in the mission.
Two immortal lines -- 'Aadhi lagna Kondhanyacha mag majhya Raybaa cha' (First we win Kondhana then marriage of my son Raybaa) and 'Gad aala pan sinha gela' (We won the fort but lost the lion) -- get seetis in the cinema hall.
Director Om Raut shows a flair for historicals after debuting with the well-made Marathi film Lokmanya : Ek Yug Purush in 2015.
With Tanhaji, he has got a bigger budget and has made the best out of it. Truly, the VFX and 3D are one of the best seen in Bollywood.
The battle scenes are brilliantly executed and Raut gives an interesting twist to the ghorpad angle.
Of the cast, the Ajay Devgn-Saif Ali Khan jodi works wonders yet again after their successful turns in 1999's Kachche Dhaage and 2006's Omkara. They are simply outstanding.
Kajol has a small role of Tanhaji's wife and nails it easily.
Sharad Kelkar is convincing as Chatrapati Shivaji Maharaj.
Tanhaji is the first of the unsung heroes series that Devgn wants to develop as a franchise. It is a great initiative and something worth subscribing to.
Watch Tanhaji with kids in tow!
What did YOU think about the film?
We give you *your* space to tell us what you think about Tanhaji: The Unsung Hero.
Please send your review to moviesdesk@rediff.co.in (Subject: My Review) along with your NAME, AGE, LOCATION.
We'll publish the best reviews on Rediff.com. Reviews may be lightly edited for clarity.