Thappad aspires to be Arth-worthy. Unfortunately, it doesn't make the cut, feels Rediff reader Sumeet Nadkarni.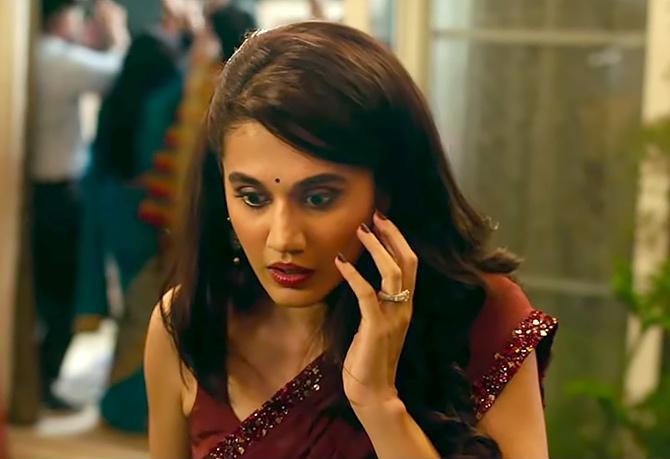 We asked readers to send in their reviews of Thappad, and we got quite a few!
Here's a look at what Rediff reader Sumeet Nadkarni thought about the film:
6 am alarm rings
The newspaper vendor arrives
Plants are watered
Good morning to next door neighbour
Tea (adrak wali) is made
Pati's breakfast is served.
Another day in life of homemaker Amrita (Taapsee Pannu).
She is living a seemingly blissful life with Vikram (Pavail Gulati, impressive) until one day, in a freak incident, he slaps her at a party in front of all the guests.
For him, it's a heat-of-the-moment reaction to bad office politics.
For the parents, it's just a one time mistake by Vikram which should be forgiven.
But for Amrita, the thappad ki goonj is unforgettable and unforgivable. Dr Dang from 1986's Karma would agree.
Writer Mrunmayee Lagoo and director Anubhav Sinha's intent is to expose the patriarchal mindset of our society and press for women empowerment. Fair point, but in a bid to cram in every element of it, they have stretched Thappad to two hours 21 minutes of excruciatingly painful run time.
In fact, the first half is very slow with those scenes of alarm clock, newspaper vendor and chai being repeated a dozen times, as if the director had nothing more to shoot.
Every male character, even Amrita's extremely supportive papa (Kumud Mishra, efficient as ever) is shown as an MCP in some way or the other. Indeed, no male in Sinha's world is good and all the females are just suffering victims.
Divorce is a personal matter between two humans and can happen for whatever reason. I have read loud snoring to be grounds for separation, so a slap is certainly serious in comparison.
Amrita has a valid point of losing her self respect and happiness when she gets hit by her hubby. Then why does she continue sulking and staying in his house days after the incident?
Shouldn't she have immediately walked out on the wife-beater?
Was she waiting for an apology from Vikram?
Since she didn't get that, is that why she decided to take the drastic step?
Anubhav Sinha packs in domestic violence, marital rape and gender inequality issues in the sub plots which meander and further slacken the film's pace.
Clearly, the director has bitten off more than he can chew and Thappad suffers greatly from his inept execution.
Taapsee Pannu is simply outstanding as Amrita. Her performance reminded me of Shabana Azmi in Mahesh Bhatt's superlative Arth (1982).
That film was an accurate take on women empowerment -- it ushered in a change in women-centric cinema in Bollywood.
Thappad aspires to be Arth-worthy. Unfortunately, it doesn't make the cut.
On a rating scale of five, I would give five stars to Taapsee and three stars to the movie.
What did YOU think about the film?
We give you *your* space to tell us what you think about Thappad?
Please send your review to moviesdesk@rediff.co.in (Subject: My Review) along with your NAME, AGE, LOCATION.
We'll publish the best reviews on Rediff.com. Reviews may be lightly edited for clarity.