You are neither entertained nor enticed in Rasbhari, complains Joginder Tuteja.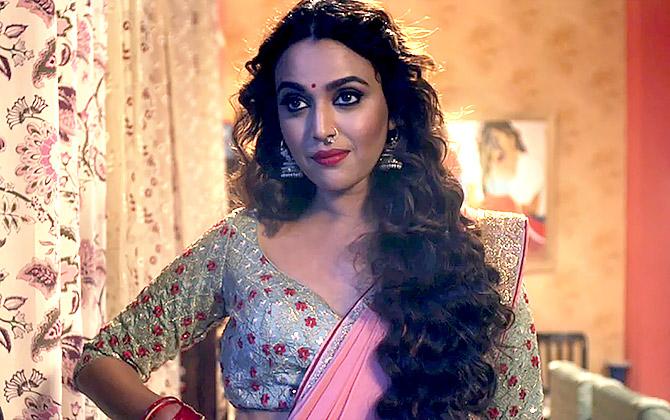 I have no issues with the genre to which Rasbhari belongs.
Sexual awakening among the youth is the premise of this Swara Bhaskar starrer.
Now, audiences have enjoyed Lust Stories. There is also a loyal audiences for shows like Ragini MMS and XXX.
The trouble begins when a show isn't able to stay faithful to the genre and worse, it does not entertain.
This is where Rasbhari fails.
It tries to be a lot of things and does not become any of those.
As is the current trend, it has a small town setting (Meerut), and tries to say that, 'Hey look, sex is spoken about everywhere.'
While that comes across as wannabe, the characters are even more fake.
Only one comes across as real, the boy who tells his story, Nand (played quite well by Ayushmaan Saxena). Beyond him, there is just no conviction out there.
Swara Bhaskar was quite good in Veere Di Wedding, but in Rasbhari, she is a complete misfit.
She does not comes across as a small town English teacher for whom all Meerut seems to be lusting (more about that later) and even less convincing is her portrayal as a seductress, who seems to be carrying traits from the 'tawaifs' of the Mughal era (gosh!).
In a case of poor casting, there is Pradhuman Singh (Tere Bin Laden) stepping in as Swara's mobile phone-selling husband who seems to be unsure of his wife's dual personality.
(Spoilers ahead)
He is confused and further confuses audiences on whether his wife's alter ego is her mental state or if there is a 'chudail ki aatma' inside his wife.
Director Nikhil Bhat (who made a decent comedy thriller Brij Mohan Amar Rahe tries to make something out of the show, but seems to have given up himself once the 'chudail' angle comes in.
If the show stayed in Lust Stories mode or dove into a Stree zone, something decent may have come out of Rasbhari.
But what it does instead is indulge in teenagers getting into the BC-MC mode for no reason, girls stepping into lingerie stores and seductively asking boys about their choice instead, housewives discussing their (non) existent sex life over rounds of Rasna, and everyone -- from a cable man to a cop to a lingerie shop owner to even a maid -- sharing their Savita Bhabhi tales.
In the process, Rasbhari turns out to be totally random and extremely boring, where you are neither entertained nor enticed, hence missing out on the laughs as well as the lust factor.
One wonders how Amazon approved this mish-mash.
Now streaming on Amazon Prime
Rediff Rating: