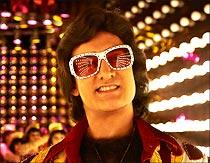 Raja Sen feels that Delhi Belly has a tight, pacy plot which has lots of satisfying little set-ups and pay-offs.
Post YOUR reviews here!
Two men are introduced. A stuffy young fellow -- who smokes cheroots and speaks as if Henry Higgins popped a hot samosa into his mouth because marbles just didn't cut it --  asks the other, one of the film's protagonists, a lad with an unfortunate jheri-curl situation, what he does for a living. "I'm a cartoonist." "Oh, like
Chacha Choudhary
?", asks the pompous one, absurdly showing off his utter obliviousness. The other guy rolls his eyes, of course. Yet a line later, when the buffoon puts out his smoke and leaves the frame, he prefaces his last words with "Old jungle saying", a reference to The Phantom comics, which immediately endows his character with more knowledge and street-cred (and taste) than the film intends.
This happens a lot in
Delhi Belly
, one of those films where people frequently step out of character and say inexplicably silly things merely to give other characters room. So that the other guy in the frame can react to this comedic full-toss, fire back a smartarsed preset quip, and win the moment. This convenient style -- that takes the challenge away from the character, and robs clever exchanges of their wit -- is however a minor niggle.
The true issue with
Delhi Belly
, a film I watched in English but which also has a Hindi version I'm now curious about, is the fact that it exists in English at all.
I realise the urbanity of the hipster-slacker leads ensures they speak in mostly English, but, tragically enough, most of the English in this film seems laboured and unnatural. Characters petulantly insist on speaking the language even when sanity demands otherwise -- when a gangster is questioning them in Hindi while shoving a gun into the crotch of their pyjamas, for example -- and even when English is the obvious choice, the delivery doesn't work.
Some very good lines are flat-lined by the way they're delivered, and the bad lines sound like you'd imagine Rahul Bose would in front of a mirror. It's actually quite fascinating to see that in the mostly-English version that I saw, all of the laughs came from the Hindi bits.
What
Delhi Belly
has, unlike many of its young slick contemporaries, is a plot. A nice, tight, pacy little plot which has lots of satisfying little set-ups and pay-offs, and where everything comes together very well indeed. Akshat Verma's script must have sounded hilarious on paper, and even if Abhinay Deo's film isn't anywhere near as funny, it's a reasonably quick ride, and at ninety-odd
minutes, never really flags too much. It's the kind of film you'll bump into on HBO midway through, stay because of Alicia Silverstone and end up smiling at more often than you think. But not one you'd recommend to anyone you like.
We've seen it all before, just not in India as much. Slacker heroes are thrown into a bizarre situation where they're forced to square off against gangsters and must pull off a heist of their own. Everything -- read EVERYTHING -- is exaggerated for effect, a method that works from time to time, but that persistent English usage and the derivative graph of the narrative makes
Delhi Belly
feel very me-too. And perhaps there's a reason American films are made by the Americans. (And ours by us. Remember when they made
Marigold
? Ulp.)
Yet it has its moments, which brings us to the quintessential point of this entire review, which is that:
Every bloody movie should have Vijay Raaz in it.
The man is marvellous. The only actor to work both English and Hindi perfectly in the film, Raaz shines through
Delhi Belly
with such panache it would be unfair to not applaud. He's always been a fine actor, incredibly provoking grins even in Anees Bazmee monstrosities, but here, after a long time, he's gotten enough elbow room. And he pounces onto the screen and revels in it. As a ruthless gangster who hates getting his hands dirty, Raaz talks with methodical menace so coolly that we forever anticipate him exploding. And he does so in stellar fashion. It's a star turn that completely chews up everyone else in the film.
Refreshingly, it's not Imran Khan's film, though he is the default hero. Armed with a scruffy beard and a conveniently dazed expression, Khan plays a journalist who tries to look cool by not smiling. His flatmates are Kunal Roy Kapoor, -- the only guy who acts naturally in English and works the lines, while proving yet again that rude stomach noises are funnier coming from fat people (they just are!) -- and Vir Das, who is thankfully given precious little to do. There are two women in Khan's life, Shenaz Treasury, who acts her best with her head in a brown paper bag (who knew tear-soaked cleavage could be so funny?) and the very attractive Poorna Jagannathan, a thrillseeking journalist everyone calls Menaka except her ex-husband who seems to think her name's Meghna.
The film's finest line is an inspired turn of phrase used by a cop contemptuous of his brother's brothel-loving ways. It came out of nowhere and knocked me for a loop, and I had to choke back laughter. "Oh, you think that do you, Sir ____-a-lot?", I'd say, translating and killing the mood. Nope, the magic lies in the Hindi.
Rediff Rating: